Posts Tagged 'Gallery'
Posted by Sara on June 10, 2019
Over the last months, I have been searching pretty much the entire web for event photos of Dianna, in an attempt to expand our appearances section in the gallery. As a result, I now have more than 1000 new-old pics of our girl, many which are really rare! Since it's taking me a while to sort and add them all, I'll do them in batches by year – first up, 2009! This was a busy year for Dianna, with Glee promotion and signings from the beginning of the year and until the end. Below you can find a full list of the updated albums, but you can also browse the 2009 category by last additions here. Stay tuned for 2010 to 2018!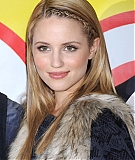 Posted by Sara on March 08, 2019
Hello everyone! Last night, Dianna was in attendance at the 'Fleabag' Opening Night Party held in New York City! She wore a black, knee-length coat with a matching leather jacket and dark trousers for the occasion, and looked great as always. The first 4 high quality photos have been added to our gallery for you, and I will keep looking for more. Enjoy! If you want to learn more about 'Fleabag', I've copied a short tidbit on it for you below.
Dailymail – She's been hailed for her sharp writing and dark comedy on BBC cult hit Fleabag. And Phoebe Waller-Bridge was joined by a star-studded turnout at the opening night party for Fleabag, the play that inspired the hit series of the same name, at Bistrot Leo bar and restaurant in New York City on Thursday. The director, 33, looked in high spirits at the event where she wore a navy pin-striped jumpsuit with a matching belt.

Phoebe originally performed Fleabag as a one-woman play at the Edinburgh Fringe Festival in 2013, winning the Fringe First Award. The success of the play led the writer and director to adapt it for television. The series follows Fleabag, a struggling millennial who runs a failing guinea pig café, constantly locks horns with her family and jumps from one dysfunctional relationship to the next. Its debut series scooped three BAFTA nominations (of which Waller-Bridge won Best Female Performance) with critics hailing it as a 'scathingly funny' portrayal of life as a single woman.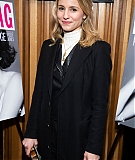 Posted by Sara on October 02, 2018
Hello Dianna fans! Since news are still slow, I've spent some of my free time adding new-old photos to the Gallery. Most of these are additional pics from events Dianna has attended through the years, but there are also some new magazine scans, screen captures and candids. Among all the new photos, the most notably new in there are probably the additions from this year's CFDA Fashion Awards and the extremely stunning new close-ups of Dianna from the Glee Season 2 Party back in 2010! By clicking on any of the thumbnails previewing some of the new pics below, you will be directed to the "Last Uploads" section of our gallery, where you can see all the new additions. You can also navigate yourself to the album(s) you want to check out by using the links.
In addition to these new-old pics, I have also added two brand new albums to our gallery. The first contains 4 cute candids of Dianna out and about in New York City from September 27. A couple of days after these were taken, Dianna and Winston traveled to the Ohana Music Festival (which was held in California this weekend), where Winston closed the festival with his band Mumford & Sons. There Dianna met up with her old Glee Co-Star Kevin McHale on September 30, and the duo posed for a super adorable photo together – and their picture-perfect selfie has been added to the gallery in HQ!
Posted by Sara on September 02, 2018
Welcome to Dianna Agron Heaven, your newest fansite dedicated to the lovely Dianna Agron! After months of hard work behind the scenes, I'm so excited to finally be able to share the work I've created with her fans from all over the world. We already have a big network with exclusive content, but the site will keep on growing rapidly. I'm hoping this site will serve as a place that can satisfy all the needs Dianna fans might have when it comes to photos, news and content – while we simultaneously promote Dianna and her upcoming projects. Now, let me take you on a quick tour of what the site has to offer!
Our photo gallery currently holds over 60 000 photos (including several exclusive photoshoots, events, film stills and other rare content). We also have a video archive with more than 100 videos, exclusively written pages with in-depth information on Dianna and her career (including pages for every single one of her films, shorts, tv series, music videos and more), pages with graphics, media, games to play and more. In addition to this, we also have an exclusive press library which contains a big collection of Dianna articles and interviews, including ones you won't find anywhere else on the web. These have been transcribed from Dianna's speeches or her magazine features exclusively for Dianna Agron Heaven! The library can be viewed in two different formats: as a full archive where you can easily sort between years (here), type, project and more, or as a list with links to all the posts (here). The only pages which are currently far from complete are the Style files, graphics archive and Glee pages, but I have big plans for those – so keep checking back.
I hope you will all enjoy the site as much as I've enjoyed building it! I have been a fan of Dianna ever since her days back on Glee, and I have loved watching her career take off over the years. Building this site has been so much fun for me – the site has truly been a labor of love, and I hope it'll show! It hadn't been possible to get the site to where it is today without a little bit of help though, so I would like to give a big thanks to Mike Ownby, David Garcia, and my friends Maria, Marica, Jay and Haylie, who have all donated photos and content to get our site as complete as possible. Make sure to return regularly for all the latest news related to Dianna and her career, and I have plenty more content coming up in the next few weeks to share with you all as well. I hope you'll enjoy looking around, and feel free to comment with your thoughts, suggestions or potential problems. This site is both for me, Dianna and YOU, so all feedback is appreciated. If you like what you see, make sure to follow us on twitter so you'll receive all our latest updates on your timeline! – Love, Sara.