Archive for the 'Screen Captures' Category
Posted by Sara on March 31, 2021
Earlier this month, Lola Adesioye sat down with Emma Seligman, Rachel Sennott & Dianna to discuss their film Shiva Baby (which will be out on VOD and in selected theatres April 2nd). You can watch the full interview below, and screen captures have been added to our gallery! Sadly these are zoom quality and not real HD, but it's better than no Dianna content 😉
Emma Seligman's very queer, very Jewish Shiva Baby follows Danielle, who runs into her sugar daddy at a Jewish funeral service with her parents. Told largely within the claustrophobic confines of one house with an unsettling energy, the film dances maniacally, with a caustic Danielle scarcely navigating the trenches of obligatory niceties, as she lurches between the grasp of her doting parents, high-school sweetheart Maya and sugar daddy in attempts to retain a semblance of stability and identity.
Posted by Sara on March 31, 2021
A couple of days ago, Dianna did an interview for ET Canada with Emma Seligman and Rachel Sennott to promote "Shiva Baby". You can watch Dianna's parts below thanks to our friend @fellintodianna, and screen captures are up in our gallery!
Posted by Sara on March 31, 2021
With 'Shiva Baby' hitting selected theatres and VOD this Friday, Dianna did a zoom interview with Breakfast Television Toronto yesterday morning. She got disconnected for a minute or two, but keep watching, as she eventually gets her computer/wifi sorted 😉 You can watch the segment below, and as usual, find screen captures in our gallery! I'm really loving this new hair color.
Posted by Sara on February 12, 2021
In preparation for the premiere of 'The Laureate' next month at the Berlinale 2021, our gallery has now been updated with the first official poster, behind the scenes photos and HD screen captures from the very first teaser trailer for the film (which you can watch below if you haven't seen it yet!). The Covid-19 pandemic will unfortunately greatly affect how much the cast will be able to promote the film, but we still hope we'll get a fair share of new Dianna content the coming month. *Fingers crossed*
If you're interested, you can also view a special 'A Director's View' featurette over at youtube, in which Writer/Director William Nunez talks about The Laureate in New York City before it went into production.
Set against the glamorous backdrop of Britain's roaring '20s, The Laureate tells the story of young British War Poet Robert Graves, who is married with four children when he meets and becomes romantically involved with Laura Riding, a writer from America. Defying the conventions of polite society, Riding moves in with Graves and his wife living as a menage a tois. Then with the arrival of strappingly handsome Irish poet Geoffrey Phibbs, the arrangement becomes a menage a quatre. But soon tensions and rivalries become so fraught that Graves is a suspect for attempted murder.

Directed by William Nunez, and co-starring Tom Hughes, Laura Haddock, Julian Glover, Patricia Hodge, Christien Anholt & Fra Fee, The Laureate is set to have its premiere at the Berlinale 2021's Industry Event from March 1–5!
Posted by Sara on February 04, 2020
Hello again Dianna fans! As you know, the long-anticipated "Headlock" (or "Against the Clock" as it was re-titled to right before the official release) was released early last year. I have finally updated our gallery with HD screen captures from the film! We discussed this film in length over at twitter last year, so I won't go into the film too much here; but it truly showcases Dianna's beauty, and the screen captures are definitely worth a look. Previews and links below!
PS: Our friend Mike Ownby has managed to purchase a blu-ray version of the film, and is posting a big bunch of beautifully edited screen captures on his flickr that you can check out here. I hope to have my own blu-ray version of the film eventually, but for now it's sadly not available in my region – I hope you still enjoy the new photos! If you live in the US, you can purchase your own copy over at Amazon here.
After CIA agent Kelley Chandler's (Mark Polish) overseas intelligence mission goes awry, he returns home on life support with one foot placed preemptively in a body bag. As the CIA, spear-headed by foul-mouthed genius Hotchkiss (Andy Garcia), are destined to pull the plug on Kelley, it is up to his wife, Tess (Dianna Agron), to uncover the truth of what really happened. HEADLOCK is a high-suspense conspiracy spy-fi thriller, with Tess and Kelley forced to tackle both mental and physical extremes in the hope that together, they can unlock the answers.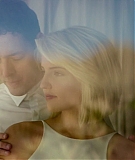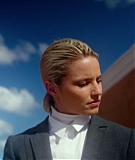 Posted by Sara on January 31, 2020
2020 continues to treat us well so far – alongside Christina Ricci, Dianna is the star in Roger Vivier's new advertising short film titled "Abracashoes"! The 2 minutes video features Dianna as a voluntary during a magic show, and was released this morning as a part of the brand's Spring/Summer 2020 collection showcase. It's a fun, cute clip, which features some really stunning close-ups of Dianna (as well as lots of gorgeous shoes!). You can watch the film in its full below, and I have also added it to our video archive so you can easily find it back in the future.
I have attached an article on the film by Italian Vogue (translated as good as possible by yours truly – please get in touch with me if you're able to improve on certain parts), where you can read about the inspiration for the film under the video. As for photos, our gallery has been updated with high quality promotional photos, a promotional poster and beautiful screen captures of Dianna! Find all previews and links at the end of the post below.
It's called Abracashoes and it's the new, hilarious fashion film presented by Roger Vivier to showcase the spring summer 2020 collection. Imagined by the creative director Gherardo Felloni and directed by Nicolangelo Gelormini, the short film sees the actresses Christina Ricci and Dianna Agron engaged in the role of a magician and a voluntary, during a delightful magic show that puts Belle Vivier shoes at the center of the scene, among the most emblematic models of the Maison.

The two icons of the big screen and perfect interpreters of the Roger Vivier style have been carefully chosen by Felloni: «Christina is one of the actresses of my dreams that I really admire. She was present at our Hôtel Vivier event in Los Angeles and also collaborated with director Tim Burton, which I appreciate very much. Dianna Agron, on the other hand, is a talented young actress. Her beauty and her sex appeal seduced me immediately ».

The short movie was created according to precise aesthetic codes that characterize the brand, ironic and sophisticated, classic but current, extremely chic. But not only. The cinematographic language, in fact, much loved by Felloni, in recent years has become essential for him, so much so that the video projects signed by Roger Vivier today represent an important stylistic reference point for all fans of the genre. We included.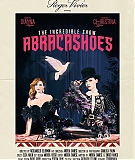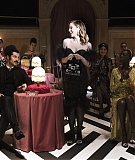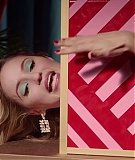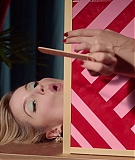 Other Projects > Short Films > Roger Vivier: Abracashoes (2020) >
Posters & Key-Art
Other Projects > Short Films > Roger Vivier: Abracashoes (2020) >
Promotional Photos
Other Projects > Short Films > Roger Vivier: Abracashoes (2020) >
Screen Captures