Archive for the 'Candids' Category
Posted by Sara on April 21, 2023
Dianna was snapped walking around in New York City yesterday, talking on the phone with a massive smile on her face! She once again showed her love for massive jackets, wearing a gorgeous red leather coat. Our gallery has been updated with 19 HQ candids – enjoy!
Posted by Sara on April 30, 2021
It's Dianna's 35th birthday today, which we will celebrate here at Dianna Agron Heaven with a big gallery update! Several additions have been added to the Public Appearances, Candids and Photoshoots sections, and more than +700 high quality photos have been added in total. You can find a list of the biggest updates below!
Dear Dianna – Happy Birthday! We're grateful for all the hard work you do, and all the light you bring to our lives with your talent and passion. It's been a true joy to follow your career all these years, and we can't wait to see what the coming year will bring for you. We hope your birthday will be a great one spent with all your loves ones, and that the year ahead brings you all you wish for. Thanks for being such an incredible role model to us all!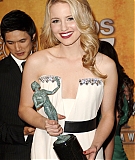 Posted by Sara on February 12, 2021
Dianna was photographed out in New York City earlier this week (February 10th), wearing a navy striped coat and an adorable black pom pom hat! Even though she's wearing a mask you can still easily see the big smile on her face in the pictures, assuring that they'll work as the perfect pic-me-up after a long week long year for any Dianna fan. Find HQs in our gallery!
Posted by Sara on March 03, 2020
I just came across some brand new candids of Dianna, photographed out and about in her infamous pink beanie! I'm not entirely sure where these were taken yet – update: they're from New York!, but they seem to be from this morning (possibly yesterday). Based on her outfit, it's somewhere cold! 9 high quality photos can now be found in our gallery, and I will update our twitter if I come across more later. Enjoy the new pics!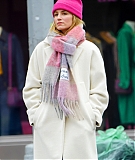 Posted by Sara on January 16, 2019
Like we announced yesterday, Dianna was a guest at BUILD Series NYC's live show to discuss her Café Carlyle return earlier this afternoon! We have been blessed with a big batch of photos already (and I think we can expect even more later on – stay tuned on our twitter account for updates!), both of Dianna arriving at the studio, and of her during the actual show. Her whole interview has also been uploaded to YouTube for those of you who were unable to catch her live – or just want to watch it one more time – and can be viewed in full below. I have also uploaded screencaps for you to our gallery…
Acclaimed actress and singer Dianna Agron returns to Café Carlyle, January 22-February 2. From Marianne Faithfull and Nancy Sinatra to Nico and Peggy Lee, Dianna will be paying tribute to some of finest female-fronted acts of the '60s and '70s. By way of the hit TV show, "Glee," selling more than twelve million albums worldwide and tackling two major tours, she is no stranger to the stage. A resident of New York, she is thrilled to bring her voice back to Café Carlyle, something she feels cements her place in the city.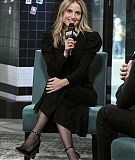 Posted by Sara on January 11, 2019
Our favorite couple was snapped by photographers on their way to lunch in the Soho neighborhood of New York City yesterday, giving us the first candids of Dianna from 2019! She looked as cute as always, sporting a big smile and wearing a red flannel patterned overcoat and a black beanie. You can now find 18 high quality photos of Dianna and Winston from the day over in our photo gallery – thanks to my kind friend Maria for helping me with these!