Archive for the 'Video Archive' Category
Posted by Sara on January 31, 2021
Hello Dianna fans! To celebrate the new year, I have put up a new layout here at Dianna Agron Heaven. Our site celebrated it's 2nd anniversary last fall, and since we've had the same look ever since the launch of the fansite I figured it was about time we had a change. The theme features Dianna's stunning "Romeo & Juliet" photoshoot by Damian Foxe, and our header was designed by the very talented Nicole. The theme customization is done by yours truly, but big thanks to my good friends Neide and Elise for their help. Our gallery, video archive, graphics archive and press library all have the new look, and I have also re-designed our main pages to match! I am still going through our sub-pages to make sure they all fit the new theme (there's 99 of them, so it'll take me a couple of hours!), but everything should be fixed by tonight.
If you're still seeing our old theme or graphics (or any pink or yellow sections), make sure to hard refresh both our site and gallery! I hope you'll all enjoy our new look, and don't hesitate to leave a comment with your thoughts below – I'd love to hear your opinions. Stay tuned for many "The Laureate" and "Shiva Baby" related updates coming up over the next days.
Posted by Sara on November 11, 2018
I'm making up for a couple of weeks with no updates with a second one today! And for this one, I have a little treat for you. After our big public events screencaps update at the end of last month, I have received several requests from our twitter followers asking if I can share the videos used; and as promised, I have now added the first batch to our video archive! The new videos are all of Dianna at various public events, and span from 2009 and all the way up until last year. She's such a joy to watch, and I love listening to her talk about her projects – her passion for the arts clearly comes across, and these are guaranteed to put a smile on your face! I've posted some previews below, but make sure you head over to our video archive to check them all out.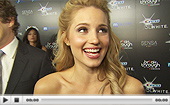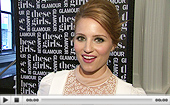 Posted by Sara on September 05, 2018
On a request from a twitter follower, I spent the morning searching for news on any of Dianna's upcoming projects (check our sidebar to the right for more details), but it looks like we just have to remain patient for the time being – other than "Headlock" stating at their official instagram that the film is coming soon, there's no official release date for either that one or "Berlin, I Love You" just yet. I promise to keep you updated the minute I learn something more! Since Dianna news are quiet, I took the opportunity to continue working on our gallery and video archives. I have added additional outtakes from four of Dianna's photoshoots – Vanity Fair France from 2013, her 2014 shoot by Justin Coit and two different sessions done at the Toronto Film Festival last year (Session #008 + Session #009). I have also added screencaps from the deleted scenes from "Bare", which you won't be able to find anywhere else on the web!
As for the video archive, I have added 4 clips of Dianna at the 2015 Tribeca Film Festival. These were taken by my friend Mike Ownby, and he kindly allowed me to share them with you all here at Dianna Agron Heaven! I have also added a 12 minute long clip of Dianna and her Novitiate co-stars (+ director Maggie Betts) doing a live interview at Sony Classics' Facebook page during their press day on October 26, 2017. This wasn't a great interview for those interested in learning more about the film (I have a feeling the girls were quite tired of answering the same old questions over and over again after longs months of promotional work at film festivals), but I really love it anyway because of how goofy and adorable Dianna is. Screencaps have also been added to our gallery!
I also have a little treat for you – Mike was kind enough to colorize some of Dianna's Vanity Fair outtakes for us, and they are so well done! Had I not known they were edited, I would have believed them to be real. Everyone who loves this shoot of hers should definitely check out the album for these edited versions. It's also thanks to Mike that I've been able to make the Bare and Sony Live screencaps – you can check out his Flickr for a lot of great Dianna content here.
Posted by Sara on September 02, 2018
Welcome to Dianna Agron Heaven, your newest fansite dedicated to the lovely Dianna Agron! After months of hard work behind the scenes, I'm so excited to finally be able to share the work I've created with her fans from all over the world. We already have a big network with exclusive content, but the site will keep on growing rapidly. I'm hoping this site will serve as a place that can satisfy all the needs Dianna fans might have when it comes to photos, news and content – while we simultaneously promote Dianna and her upcoming projects. Now, let me take you on a quick tour of what the site has to offer!
Our photo gallery currently holds over 60 000 photos (including several exclusive photoshoots, events, film stills and other rare content). We also have a video archive with more than 100 videos, exclusively written pages with in-depth information on Dianna and her career (including pages for every single one of her films, shorts, tv series, music videos and more), pages with graphics, media, games to play and more. In addition to this, we also have an exclusive press library which contains a big collection of Dianna articles and interviews, including ones you won't find anywhere else on the web. These have been transcribed from Dianna's speeches or her magazine features exclusively for Dianna Agron Heaven! The library can be viewed in two different formats: as a full archive where you can easily sort between years (here), type, project and more, or as a list with links to all the posts (here). The only pages which are currently far from complete are the Style files, graphics archive and Glee pages, but I have big plans for those – so keep checking back.
I hope you will all enjoy the site as much as I've enjoyed building it! I have been a fan of Dianna ever since her days back on Glee, and I have loved watching her career take off over the years. Building this site has been so much fun for me – the site has truly been a labor of love, and I hope it'll show! It hadn't been possible to get the site to where it is today without a little bit of help though, so I would like to give a big thanks to Mike Ownby, David Garcia, and my friends Maria, Marica, Jay and Haylie, who have all donated photos and content to get our site as complete as possible. Make sure to return regularly for all the latest news related to Dianna and her career, and I have plenty more content coming up in the next few weeks to share with you all as well. I hope you'll enjoy looking around, and feel free to comment with your thoughts, suggestions or potential problems. This site is both for me, Dianna and YOU, so all feedback is appreciated. If you like what you see, make sure to follow us on twitter so you'll receive all our latest updates on your timeline! – Love, Sara.