Archive for the 'Interviews' Category
Posted by Sara on May 16, 2023
We were blessed with not just one new photoshoot last week, but two! In addition to the gorgeous new W Magazine photoshoot, Dianna also appeared on Bustle Magazine to promote Clock. The full article has been added to our press archives, and you can find the beautiful new photoshoot in our gallery! Find all links and previews below.
Dianna Agron is running late — she's stuck on the subway. I have no problem believing this because I am on the exact same train a few cars away, as we learn when she sends me a heads-up text. My phone slowly receives a selfie of Agron waving through a grainy train window, face curtained by long light-brown hair, along with another message about how tickled she is that we're sharing a classic New York experience. And it's one we continue when we finally make it to The Odeon, the iconic Tribeca bistro. "It's been a staple since the 1980s, which is what I love about this place," she says in her lilting voice as we mull over the menu. "This is a place that was happening when I was born and didn't even know that it would be waiting for me when I moved to New York City." We get two dirty martinis and a plate of fries before gleefully cheering to being in our 30s. "I love this time, though," she adds.

Agron has been thinking a lot about her 30s, and not just because we're meeting up two weeks before her 37th birthday. Her new movie, Clock, out now on Hulu, is a sci-fi horror film that explores the immense societal pressures women, in particular those without children, face in that decade of their lives. But the film's messages about making your own choices also resonate within the arc of her career. Agron spent six seasons on the pop culture juggernaut that was Glee — and enduring the intense public scrutiny that came with it — before more recently finding acclaim with a string of indie movies like Shiva Baby and Novitiate. With Clock, Agron pushed herself again. There are big action scenes (hanging from cliffs, elbow-deep gore), as well as dark emotional depths (involving painful family secrets coming to life). "Collected experience really does add up," she says. "And I think that the life I've lived the last 10 years in some ways has been more magnificent and more challenging than my more formative years." | Read full interview in our press archives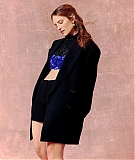 Posted by Sara on May 15, 2023
Dianna was recently featured on an online publication of W Magazine, where she discussed both past and current projects – including El Elegido, Clock and Shiva Baby. In addition to the new interview, we also got a stunning new photoshoot of Dianna courtesy of Meghan Marin! This is easily one of my favorite Dianna shoots from the last few years.
Our gallery has been updated with the photoshoot, and you can find links to both the interview and the new video below! Both have been added to our press and video archives. I have also made screen captures from the new video. Enjoy all the new content!
After more than a decade in the spotlight, the former Glee actress has a slew of exciting new roles—and a whole new take on her personal style.

Ryan Murphy's campy, high school musical dramedy Glee permanently altered the face of pop culture when it first aired on Fox in 2009. As Quinn Fabray, the blonde head cheerleader with a husky contralto singing voice, Dianna Agron turned a character that could have been a one-dimensional mean girl into a sympathetic, layered human being— and left a lasting impression on a generation of television viewers.

At 37, Agron is stepping into the spotlight again—not that she ever left. She's had a successful string of acting roles in recent years, starting with 2020's cult favorite, Shiva Baby, which sparked a wave of creativity for Agron and simultaneously introduced her to a whole new audience. Thanks to Glee clips on TikTok and the series' current streaming status on Hulu, viewers are either discovering her or falling in love with her all over again. | Read the full interview in our press archives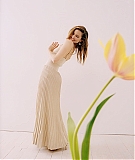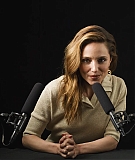 Posted by Sara on April 21, 2023
Dianna surprised us all by appearing on ABC News yesterday! I really enjoyed this interview, as it solely focuses on Dianna's career projects, and not her personal life. It's refreshing to watch an interview like this, and she was also asked some questions we haven't heard so far in the promotion tour for the films. They discussed both Clock and Acidman, and you can watch her segment below!
Our gallery has been updated with screen captures of Dianna's appearance on the show. She looked so pretty!
ABC News' Linsey Davis sat down with actress Dianna Agron to discuss her role in psychological thriller "Clock" and the pressure people face to have children.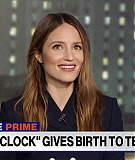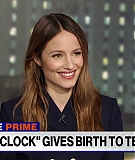 Posted by Sara on April 12, 2023
Dianna promoted Acidman on KTLA 5 Morning News yesterday! I have added her segment to our video archive, and you can watch it either there or below!
Posted by Sara on March 30, 2023
Next Best Picture recently did a lengthy interview with Dianna about her upcoming film Acidman, which she both starred in and directed. It's a great interview, and you can listen to it on podcast apps, such as Spotify and iTunes Podcasts – or you can watch it below.
"Acidman" had its world premiere at last year's Tribeca Film Festival, where it received positive notices for the performances from Academy Award nominee Thomas Haden Church ("Sideways") and "Glee" star Dianna Agron for their work as an estranged father whose daughter travels across the country to visit him only to discover that he's starting to lose his mind in his search for UFO's. Dianna was kind enough to spend some time talking with us about working with Haden Church, collaborating with director and co-writer Alex Lehmann, her own relationship with her father, and more. Please take a listen below and be sure to check out the film this weekend from Brainstorm Media in limited release and on demand.
Posted by Sara on April 06, 2022
To promote their new film, As They Made Us, Dianna and Mayim Bialik sat down to discuss, well, pretty much everything! In the over one hour long episode, we get to learn more about Dianna's choice to choose smaller projects following her time on Glee, making art after processing grief, her experience growing up in hotels and so much more. It really is an incredible interview that I recommend listening from start to finish, as we get to know many new details about Dianna we've never heard before. The episode is also available on Spotify or Apple Podcasts, so that you can easily listen to Dianna speak even if you're in the middle of a busy schedule keeping you from watching the video of the recording!
Dianna Agron (As They Made Us, Glee, Acid Man, Shiva Baby) joins us to discuss what it was like to work with Mayim on her new film, As They Made Us. She opens up about her experiences growing up in hotels and her family's struggles after her father's multiple sclerosis diagnosis. Mayim and Dianna bond over the scrutiny they faced while publicly coming of age on a television show, the inclination to make art after processing grief, and the benefits of healthy compartmentalization. Mayim explains the process of writing her film in response to the loss of her father and why Dianna's character was the most difficult for her to write. She discusses body and emotional awareness in another installment of Moments of Peace and Calm.