Archive for the 'Videos' Category
Posted by Sara on May 15, 2023
Dianna was recently featured on an online publication of W Magazine, where she discussed both past and current projects – including El Elegido, Clock and Shiva Baby. In addition to the new interview, we also got a stunning new photoshoot of Dianna courtesy of Meghan Marin! This is easily one of my favorite Dianna shoots from the last few years.
Our gallery has been updated with the photoshoot, and you can find links to both the interview and the new video below! Both have been added to our press and video archives. I have also made screen captures from the new video. Enjoy all the new content!
After more than a decade in the spotlight, the former Glee actress has a slew of exciting new roles—and a whole new take on her personal style.

Ryan Murphy's campy, high school musical dramedy Glee permanently altered the face of pop culture when it first aired on Fox in 2009. As Quinn Fabray, the blonde head cheerleader with a husky contralto singing voice, Dianna Agron turned a character that could have been a one-dimensional mean girl into a sympathetic, layered human being— and left a lasting impression on a generation of television viewers.

At 37, Agron is stepping into the spotlight again—not that she ever left. She's had a successful string of acting roles in recent years, starting with 2020's cult favorite, Shiva Baby, which sparked a wave of creativity for Agron and simultaneously introduced her to a whole new audience. Thanks to Glee clips on TikTok and the series' current streaming status on Hulu, viewers are either discovering her or falling in love with her all over again. | Read the full interview in our press archives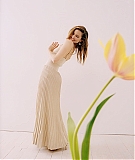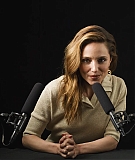 Posted by Sara on April 25, 2023
Good morning Dianna nation! Another Clock interview was just uploaded to YouTube, in which Dianna her her director Alexis Jacknow talk with ComingSoon's Tyler Treese. They discuss what drew Dianna to the movie, her co-stars and much more. The reviews for the film so far are incredible (stay tuned for a reviews master-post), so make sure you stream it on Hulu this Friday. We can't wait!
ComingSoon Editor-in-Chief Tyler Treese spoke to Clock star Dianna Agron and director Alexis Jacknow about the psychological horror movie. The film debuts on Hulu on April 28. "Clock is the story of a woman who enrolls in a clinical trial to try and fix her seemingly broken biological clock after friends, family, and society pressures her to have children," reads the movie's synopsis
Posted by Sara on April 21, 2023
Dianna surprised us all by appearing on ABC News yesterday! I really enjoyed this interview, as it solely focuses on Dianna's career projects, and not her personal life. It's refreshing to watch an interview like this, and she was also asked some questions we haven't heard so far in the promotion tour for the films. They discussed both Clock and Acidman, and you can watch her segment below!
Our gallery has been updated with screen captures of Dianna's appearance on the show. She looked so pretty!
ABC News' Linsey Davis sat down with actress Dianna Agron to discuss her role in psychological thriller "Clock" and the pressure people face to have children.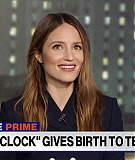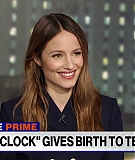 Posted by Sara on April 19, 2023
After playing Quinn Fabray on Fox's "Glee," Dianna Agron decided to pursue roles in independent films. "The doors were open in those capacities and they were worlds I wanted to play in," she said on this episode of "Salon Talks." The actress talks about how she built an "authentic" and "fresh" career with movies like "Acidman," "Shiva Baby" and "As They Made Us." Plus, Agron shares her plans for future music, why she was destined to be on "Glee" and the advice she gave to the young actors on "Acidman."
Posted by Sara on April 03, 2023
At yesterday's special screening of Acidman (see previous post for photos!), Dianna participated in a Q&A moderated by her close friend Nora Kirkpatrick. It has now been uploaded to YouTube, and you can watch the full panel below!
Posted by Sara on March 30, 2023
With both Acidman and Clock coming out right after each other this month, we were prepared for some new content – but what a week this is proving to be! Second new Dianna interview in a week can now be watched below, and it's yet another a good one. We doubt this will be the last new content we receive related to the two new films, so make sure to return regularly the coming days/weeks…
Dianna Agron joins Travis Hopson of Punch Drunk Critics to talk about her new film, ACIDMAN! The sci-fi drama stars Agron and Thomas Haden Church as an estranged daughter/father duo who bond while attempting to make first contact.