Posts Tagged 'Café Carlyle'
Posted by Sara on June 12, 2019
Thanks to our kind friend Mike Ownby and Clare, we finally have more photos of Dianna's Café Carlyle Run this January! Not many official photos were released during her run, so these are definitely a real treat. There's more than 100 photos in total, from several of the different nights Dianna performed. I hope you enjoy them – we're very lucky to have such kind souls in the fandom that share things like these with those of us who didn't have a chance to go!
PS – Since these were shared with us exclusively, please don't re-post them elsewhere without permission from Mike and Clare. 🙂
Posted by Sara on January 24, 2019
To promote her Café Carlyle run, Dianna did a photoshoot and interview with New York Moves Magazine last week. They just released a short video clip taken on the day, previewing the soon to be released interview! In our gallery, you can also find a couple of behind the scenes photos from her visit.
Credit: @New York Moves Magazine
Posted by Sara on January 23, 2019
Dianna kicked off her two-week long residency at the Café Carlyle last night, and according to some of our friends who were in attendance, it was a very successful evening! I have RTed opinions, fan photos, videos and more from the night over at our twitter account, for those who want to check it out. Dianna wore a stunning black Gucci dress with floral patterns, and her hair and make-up was done by Brittan White and Joseph Carrillo as per usual! While I still hope more photos will be uploaded to the web soon, I have now added the first 7 high quality photos to our gallery for you (and they're so beautiful!). For those who want even more great content from Dianna's opening night, our friends over at Dianna Agron Fans have shared several clips from her show.
For those interested, Dianna's setlist for her 2019 residency is as follows: Not the lovin' kind, These Days, Oh! You Beautiful Doll, Perfect Day, You Belong to Me, Who Do You Love, Sha la la Song, I wanna be Seduced, Is that all there is?, Oh how to be lonely, I want to be evil, After hours, Don't, Dream a little dream of me, If I should fall behind, True love will find you.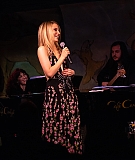 Posted by Sara on January 22, 2019
Dianna kicks of her two-week long residency at the Café Carlyle TONIGHT, and for the occasion, Nylon Magazine have shared a great new article on our girl. Read it below or at the source, and get ready for plenty of updates here and on twitter, as we get ready to cover her run at the Café Carlyle!
NYLON – She's not going to choose a creative lane, because why should she? Dianna Agron doesn't want to choose between acting and music or acting and anything else; she'll have it all, thank you. And just like Agron isn't keeping herself restricted to one career path, she also doesn't feel like restricting herself to only the biggest projects, and keeps an eye out for engaging, smaller-scale things as well. Agron knows better than anyone else that different moments in time require different creative outlets.

Agron entered the public eye during a very specific moment in time with a very specific project: She became a household name because of her role on the television series Glee (which, if you're like me, you watched religiously every Tuesday, then every Thursday, then every Tuesday again—until the plot got too complex). She tells me on the phone that the show was everything that she wanted when she first came out to Los Angeles to pursue an acting career, because it was something that let her sing, and dance, and act. "When I was a kid, I was watching musicals, so I actually thought that that's what becoming an actress meant," she said. Fitting.

As of now, Agron has found out how to quench all of her creative thirsts at once: by diversifying her projects, and often. Tomorrow, she begins a two-week long residency at the Café Carlyle, where she will be singing to a small room of people. After starting her career in a recording studio every week for Glee, and then performing at huge Glee: Live concerts for the show's fans, she's just as, if not more, comfortable on a smaller scale. "I forget that there's ways like this in which I can engage on such a personal level and share this deep, deep love I have for music in an intimate space," she says. "I know for other people, playing on a big stage in a big arena gives them that big adrenaline rush, but I do find that in a small room." Read More
Posted by Sara on January 16, 2019
Like we announced yesterday, Dianna was a guest at BUILD Series NYC's live show to discuss her Café Carlyle return earlier this afternoon! We have been blessed with a big batch of photos already (and I think we can expect even more later on – stay tuned on our twitter account for updates!), both of Dianna arriving at the studio, and of her during the actual show. Her whole interview has also been uploaded to YouTube for those of you who were unable to catch her live – or just want to watch it one more time – and can be viewed in full below. I have also uploaded screencaps for you to our gallery…
Acclaimed actress and singer Dianna Agron returns to Café Carlyle, January 22-February 2. From Marianne Faithfull and Nancy Sinatra to Nico and Peggy Lee, Dianna will be paying tribute to some of finest female-fronted acts of the '60s and '70s. By way of the hit TV show, "Glee," selling more than twelve million albums worldwide and tackling two major tours, she is no stranger to the stage. A resident of New York, she is thrilled to bring her voice back to Café Carlyle, something she feels cements her place in the city.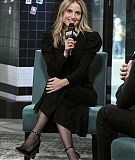 Posted by Sara on January 15, 2019
Hello Dianna fans! I hope you're ready for a day full of news, videos and photos, as our girl has a packed day full of "Café Carlyle" promotion in New York City on her schedule. One of the stops she made this morning, was a visit at 'Cheddar', where she discussed the Carlyle experience, and what fans can expect this time around. The full interview has been uploaded to their website, and I've attached it to the post for you below! Once you've seen it, you can find HD screen captures over at our gallery. Big thanks to our great friend Mike for helping me get the video to make the screencaps for the site!