Posted by Sara on April 12, 2023
Dianna promoted Acidman on KTLA 5 Morning News yesterday! I have added her segment to our video archive, and you can watch it either there or below!
Posted by Sara on April 03, 2023
At yesterday's special screening of Acidman (see previous post for photos!), Dianna participated in a Q&A moderated by her close friend Nora Kirkpatrick. It has now been uploaded to YouTube, and you can watch the full panel below!
Posted by Sara on April 03, 2023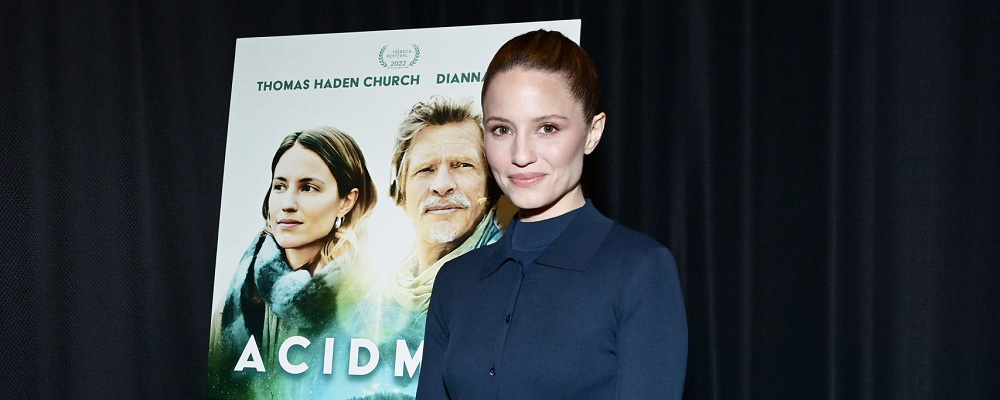 Last night, Dianna attended a special Q&A screening of her new film "Acidman" at Laemmle Monica Film Center in Santa Monica, California! Our gallery has been updated with all the photos I've been able to find so far, all beautiful HQ. Also in attendance were Logan Hall, Nate Pacyna, Steven Paul, Liz Cardenas, Alex Lehmann, Alan Pao and Jonathan Pickett.
Unfortunately, Brainstorm Media only acquired the US rights for the movie, which means it's currently only available for the US audience. For our lucky US-visitors, the film can be rented or bought on iTunes at this link.
Posted by Sara on March 30, 2023
With both Acidman and Clock coming out right after each other this month, we were prepared for some new content – but what a week this is proving to be! Second new Dianna interview in a week can now be watched below, and it's yet another a good one. We doubt this will be the last new content we receive related to the two new films, so make sure to return regularly the coming days/weeks…
Dianna Agron joins Travis Hopson of Punch Drunk Critics to talk about her new film, ACIDMAN! The sci-fi drama stars Agron and Thomas Haden Church as an estranged daughter/father duo who bond while attempting to make first contact.
Posted by Sara on March 30, 2023
Variety | A father and daughter search the skies for UFOs while a healthy relationship is alien to them in this quietly resonant drama.

Don't be surprised if the finale of "Acidman" doesn't summon the cathartic feelings suggested by its premise, wherein an eccentric recluse and his estranged daughter try to heal their familial fracture. Director Alex Lehmann ("Blue Jay," "Paddleton") shrewdly chooses not to construct his strife-filled scenarios this way. Rather, those emotions tend to hit later, unfolding long after the credits roll. The film's poignancy lies in the way these characters authentically grow from their jagged-edged conflicts, enlightening each other on their issues while bridging their cavernous divide. Though not without its flaws, this resonant, resourceful indie drama leaves a gentle imprint on audiences' souls.

Thirtysomething Maggie (Dianna Agron) is clearly carrying a lot of baggage, both emotional and physical, when she arrives at her father Lloyd's (Thomas Haden Church) decrepit trailer deep in the Pacific Northwest. She's traveled thousands of miles to reunite with him, though she's unsure if he even lives at the address she's unearthed, let alone if he wants to see her decades after he abandoned their family and his career as an engineer. She's seeking not only solace regarding the questions swirling inside her head, but also sanctuary from personal woes tied to her marriage.

The ice quickly breaks between the two after Maggie accidentally rams Lloyd with her rental car. Though it's expectedly awkward at first, she adapts to his offbeat ways, tagging along with him and his canine companion Migo on their nightly treks into the woods to tape what he thinks are UFOs communicating with him. It's bizarre, but she remains steadfast in her quest to find clarity about Lloyd's reasons for leaving her in her teen years. He senses a similar tendency brewing in her, and is curious why she's left her husband and what she's hoping to gain. Read More
Posted by Sara on March 30, 2023
Next Best Picture recently did a lengthy interview with Dianna about her upcoming film Acidman, which she both starred in and directed. It's a great interview, and you can listen to it on podcast apps, such as Spotify and iTunes Podcasts – or you can watch it below.
"Acidman" had its world premiere at last year's Tribeca Film Festival, where it received positive notices for the performances from Academy Award nominee Thomas Haden Church ("Sideways") and "Glee" star Dianna Agron for their work as an estranged father whose daughter travels across the country to visit him only to discover that he's starting to lose his mind in his search for UFO's. Dianna was kind enough to spend some time talking with us about working with Haden Church, collaborating with director and co-writer Alex Lehmann, her own relationship with her father, and more. Please take a listen below and be sure to check out the film this weekend from Brainstorm Media in limited release and on demand.