Posts Tagged 'Photos'
Posted by Sara on March 08, 2022
What a weekend, Dianna nation! The 2022 Film Independent Spirit Awards were held in Santa Monica this Sunday (March 6, 2022), and it became a very succesful night for Dianna and her Shiva Baby team. The film won the John Cassavetes Award, an award given to the best feature made for under $500,000 (award is given to the writer, director, and producer of the film).
Dianna also presented the award for best editing, which confusingly seemed to be presented during a commercial break along with cinematography and best international film. If you want to read more about the controversial telecast decisions which elicited boos and confusion among the guests, Vanity Fair has a detailed piece over here. There you can also read about the other winners! For the fashion interested, Dianna wore a sparkly chocolate crop top and soaring stilettos, designed by Prada.
It's a commercial break so everyone got up to mingle… and then, unexpectedly, Dianna Agron came out to present Best Editing during the break. (Very Oscars.) The winner is Joi McMillon for ZOLA (source)
There's definitely not a lack of content from the night, as we have been blessed with almost 200 HQ photos from the event itself, a gorgeous portrait session and several videos! I have also made screen captures from all clips I could find, and added those to our gallery as well. You can find all the new video clips in our video archive, big thanks to our friend fellintodianna for the one of Dianna presenting (FYI – the red carpet video page contains two separate clips.)
Video links:

Dianna Agron talks to Variety about Shiva Baby, the new West Side Story and more at the Spirit Awards' red carpet (March 6, 2022)

Dianna Agron presenting the Award for Best Editing at the Spirit Awards (March 6, 2022). Thank you to FellIntoDianna!
I have sorted the photos into different albums for easier viewing, and you can find all the links below the previews. If you'd rather simply browse all new additions, the event/photoshoot pics starts from this page and the screen captures from here. In total there's more than 700 new photos and screen caps added, and I hope to have even more in the coming days!
Posted by Sara on April 02, 2021
'Shiva Baby' keeps on giving! The independent film was screened in Los Angeles on the rooftop of the JW Marriott at LA Live Thursday night (April 1st), with Dianna and her co-stars all in attendance. For the occasion, Dianna wore a gorgeous V-neck black dress by Oscar de la Renta, with off the shoulder frill sleeves and a daring thigh high split – so daring in fact that Dianna had to stand the whole evening! Even during the Q&A following the film screening, Dianna can be seen standing while everyone else has been seated. I hope she will be given a good foot massage today, as in those heels, it must have been a long night… Still, it looked like they were having a great night, and we've been blessed with 90 high quality photos from the premiere.
FYI: Dianna's incredible dress is by Oscar De La Renta, and the jewellery is by Kwiat. Her styling was done by Chloe Hartstein, Sabrina Bedrani (makeup) and Bryce Scarlett (Hair). If you want to purchase a copy of Dianna's stunning dress, it can be bought at Saks Fifth Avenue right now – however, it'll cost you — jaw drop — £2500!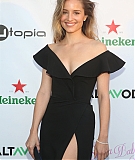 Posted by Sara on March 03, 2020
I just came across some brand new candids of Dianna, photographed out and about in her infamous pink beanie! I'm not entirely sure where these were taken yet – update: they're from New York!, but they seem to be from this morning (possibly yesterday). Based on her outfit, it's somewhere cold! 9 high quality photos can now be found in our gallery, and I will update our twitter if I come across more later. Enjoy the new pics!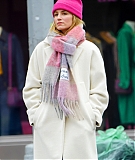 Posted by Sara on March 01, 2020
Last year I began to update the public appearances section of our gallery with new-old additions from many of the events Dianna has attended through the years, and managed to complete 2009 events and 2010 events before I ran into some computer issues. I have finally been able to continue from where I left off, and today I'm bringing you more than 400 new-old pics of Dianna from 2011! *Many* of these are super rare and have previously only been available in low quality or with tags (if at all!), so I'm really excited to share these with you. My personal favorites are probably the ones of Di at the InStyle Golden Globes Party, the LA premiere of 'I Am Number Four' + the Red Cross Youth Run – but there are so many pretty new pics in there that are worth a browse!
Below you can find a full list of the updated albums, but if you would rather just browse through all the latest additions then you can do so here (the first 4 pages). I hope you all enjoy this big update, and stay tuned for 2012 events coming up next very soon 😉
Posted by Sara on January 28, 2020
Before I start today's post, I would just like to say happy new year to all our visitors from Dianna Agron Heaven! Updates slowed down towards the end of last year here, partly due to the lack of Dianna news, and partly due to offline commitments that made it hard for me to go online as much as I would have liked. However, we're still here, and I can't wait to follow Dianna in 2020 with you all! I also have more rare photos of Dianna that I will be sharing with you the next couple of weeks, so I hope you'll all stay with us this year 🙂 I have a lot of fun plans for the site I can't wait to share with you! We're also already off to a great start to the new year news- and projects-wise, and I'll give you all a quick update on what Dianna is currently up to in this post.
Dianna's upcoming film Shiva Baby will premiere at this year's SXSW festival, which is held between March 13 and 22! We don't have a lot of information on it yet, but hopefully Dianna will be in attendance to promote the film. I will keep you updated on any new information that is released – but for now, you can read the plot for the film below, taken from the official SXSW line-up:
Shiva Baby | Director/Screenwriter: Emma Seligman
A young woman struggles to keep up different versions of herself when she runs into her sugar daddy and her ex-girlfriend at a shiva with her parents. Cast: Rachel Sennott, Polly Draper, Molly Gordon, Danny Deferrari, Dianna Agron, Fred Melamed, Glynis Bell, Sondra James, Jackie Hoffman (World Premiere)
And now to perhaps the most exciting update: Dianna has finally began filming for The Laureate! This is something we've been waiting for for a long time now, so it's definitely a great start to the new year. She and her co-stars/crew have shared several photos from the set on Instagram, which you can find in our gallery – previews and links can be found below! I will do my best to keep you all updated on the filming, so keep checking back for news.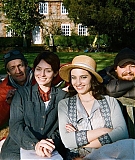 Posted by Sara on June 10, 2019
Over the last months, I have been searching pretty much the entire web for event photos of Dianna, in an attempt to expand our appearances section in the gallery. As a result, I now have more than 1000 new-old pics of our girl, many which are really rare! Since it's taking me a while to sort and add them all, I'll do them in batches by year – first up, 2009! This was a busy year for Dianna, with Glee promotion and signings from the beginning of the year and until the end. Below you can find a full list of the updated albums, but you can also browse the 2009 category by last additions here. Stay tuned for 2010 to 2018!