Posts Tagged 'dianna agron'
Posted by Sara on March 15, 2023
The first official stills for Dianna's new film Clock has finally been released and added to our gallery! The film will premiere at the Overlook Film Festival in New Orleans on March 31st, and there will be a second screening on April 1st. Tickets can be purchased here. If Dianna will attend a screening, we will of course provide photos!
Clock, a timely horror feature from 20th Digital Studio and Hulu Originals has dropped new images.

The film will have its World Premiere at the Overlook Film Festival in New Orleans, Louisiana before debuting exclusively on Hulu on April 28. The film will be available on Disney+ internationally at a later date.

Directed and written by Alexis Jacknow (Again, upcoming The Villager), Clock is the story of a woman who enlists in a clinical trial to try and fix her seemingly broken biological clock after friends, family, and society pressures her to have children. Dianna Agron (Glee, Shiva Baby) leads as Ella, with Jay Ali (Carnival Row, Daredevil) as her husband. Melora Hardin (The Office, The Bold Type) features as the pioneering doctor managing Ella's treatment.

Jacknow was tapped to write and direct two short films (Costume Change and the short Clock) under heavy Covid-19 restrictions in 2020 for the first season of 20th Digital Studio's "Bite Size Halloween." The feature version of Clock developed from there and is part of the studio's existing slate of horror features for Hulu, including Grimcutty, Matriarch, and the upcoming Appendage and The Mill.

Clock was developed by 20th Digital Studio with David Worthen Brooks, Arbi Pedrossian, and Jenna Cavelle as executive producers. Leal Naim serves as producer with Alex Hansen co-producing.

Jacknow is represented by Jeremy Platt & Tracy Kopulsky (Grandview), and Melissa Rogal at Lichter, Grossman, Nichols, Adler, Feldman & Clark. Agron is represented by Josh Glick (Grandview) and Nina Ramer & Steve Warren at Hansen, Jacobson, Teller, Hoberman. Hardin is represented by Samantha Crisp (The Kohner Agency), Maryellen Mulcahy (Framework) and Carolyn Conrad at Schreck Rose Dapello Adams Berlin & Dunham. | Deadline
Posted by Sara on June 28, 2021
Shiva Baby continues to amaze! If you still haven't seen it, make sure you do – it will come to HBO Max starting July 7. Below you can read an article Vanity Fair did on the film a couple of days ago.
Vanity Fair | As cinemas struggle to get back on their feet this summer following countless pandemic-related setbacks, we've seen well-deserved cheers for mainstream victories at the box office such as A Quiet Place Part II. However, there's another success story on a smaller scale about a film connecting with audiences in a profound and emotional way, not only defying Covid restrictions in theaters, but the usual difficulty any independent film has in finding a foothold.

That movie is Emma Seligman's Shiva Baby, and its run at the New York University-adjacent Quad Cinemas is a good, old-fashioned word-of-mouth sensation, just like we had in the before times.

The Quad's Diana Drumm noted that the theater has a "longstanding history of independent cinema, LGBTQ and women-helmed titles," so she was particularly pleased audiences have been coming to see Shiva Baby "in droves." She pointed out that since the theater's 2017 renovation, it's been the longest-running title since Agnès Varda's Faces Places.

I was lucky enough to be on-hand as a moderator for a post-screening Q&A on Thursday. Yes, it's another sign that New York is coming back to life when you can see an audience that probably needs to pee, but doesn't want to race out because the star of the movie is right there.

Rachel Sennott plays the lead role of Danielle, a bisexual soon-to-be-college grad who bumps into her sugar daddy at a Jewish mourning ceremony that typically involves as much noshing and chatting as prayer. Sennott was on hand to celebrate as the film kicked off its 13th week at the downtown theater. (The Los Angeles-based performer is also in town for a number of standup dates that you can learn more about on her Instagram page, which you should follow anyway.) "You're the Queen of the Quad!" an audience member cried out, which, Sennott later said, was particularly touching, as she used to come to "this cool theater" when she was a student at NYU. It was there, at the drama school, where she first met Seligman, who was in the film department. Sennott was performing in a lot of plays, she said during the Q&A, but had an awakening when she got stuck doing something where she "died in the first two minutes" and spent the rest of each night "just being dead." She then made an effort to appear in as many student films as possible. Seligman saw her and cast her in a short film that eventually became the feature film. Sennott called it "their baby," but quickly added, "and I'm the dad." She joked that Seligman had to deal with all the editing and whatnot while she got to say, "great job!"

The low-budget first feature boasts a string of terrific, established actors, including Fred Melamed, Polly Draper, Dianna Agron, and Jackie Hoffman. The story takes place in just a few hours with all of Danielle's problems compressing into one eruption of what we members of the Hebraic faith call tsuris.

That translated into days of filming where Sennott had to quickly reorient herself from typical young-person anxiety to full-blown breakdown. The actor and director had something of a private language to describe where Sennott needed to be emotionally, even if it meant she was jumping around a lot. The result, as I witnessed, definitely landed with the core demographic.

"Hi, I'm a queer, Jewish, 20-year-old and this movie is everything," was the sentiment many young women had when coming up to Sennott after the screening. (You don't have to be Jewish or queer or young to love this movie, but it doesn't hurt!)

Watching the exchange between the star and fans who deeply connected with this small film was something I didn't realize I'd missed during a pandemic year when in-person events were put on hold. Luckily for you, if you can't make it to New York City, Shiva Baby is available on VOD and will be on HBO Max starting July 7.
Posted by Sara on April 02, 2021
Just like at the New York premiere, several "behind the scenes" photos of Dianna were taken and shared on InstaGram once she was styled and ready for the premiere by the incredible Liza Voloshin. These are simply too stunning not to post! I promise I won't make it a habit of adding Behind the Scenes/Getting Ready photos to our photoshoots section, but when you see how stunning these are I doubt you can blame me… 😉 Also, big thanks to the incredible Mike for the photo enhancements!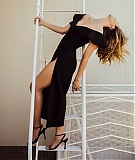 Posted by Sara on April 02, 2021
'Shiva Baby' keeps on giving! The independent film was screened in Los Angeles on the rooftop of the JW Marriott at LA Live Thursday night (April 1st), with Dianna and her co-stars all in attendance. For the occasion, Dianna wore a gorgeous V-neck black dress by Oscar de la Renta, with off the shoulder frill sleeves and a daring thigh high split – so daring in fact that Dianna had to stand the whole evening! Even during the Q&A following the film screening, Dianna can be seen standing while everyone else has been seated. I hope she will be given a good foot massage today, as in those heels, it must have been a long night… Still, it looked like they were having a great night, and we've been blessed with 90 high quality photos from the premiere.
FYI: Dianna's incredible dress is by Oscar De La Renta, and the jewellery is by Kwiat. Her styling was done by Chloe Hartstein, Sabrina Bedrani (makeup) and Bryce Scarlett (Hair). If you want to purchase a copy of Dianna's stunning dress, it can be bought at Saks Fifth Avenue right now – however, it'll cost you — jaw drop — £2500!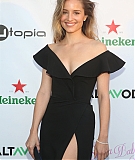 Posted by Sara on April 02, 2021
Hello and happy weekend Dianna nation! This is quickly becoming the best Easter ever, with new Dianna content every single day. In Creative Company shared their 'Shiva Baby' interview on Youtube yesterday, where they had a Q&A with writer & director Emma Seligman, Dianna and her co-stars Rachel Sennott and Molly Gordon. You can check it out below.
PS: Due to the low quality of the recent videos (zoom quality is sadly not the same as HD quality, but we're grateful to have any content at all during this pandemic!), I have decided to not add any more screen captures to our gallery. However, if you want caps from a certain interview, drop us an email or tweet and we will get it done for you.
Posted by Sara on March 31, 2021
USA Today – We've all been to uncomfortable family and community gatherings. But probably not one including your ex-girlfriend, sugar daddy (wife and baby daughter in tow) and your parents, too.

Welcome to "Shiva Baby" (in limited theaters including New York, Miami and Boston and more and on-demand April 2), the story of 20-something Danielle (Rachel Sennott) who tries to keep all her secrets intact as they literally crowd around her during a shiva. Shiva is the period of mourning after a Jewish burial, typically involving (way too much) eating and mingling at the home of a relative of the deceased, in an effort to comfort the bereaved.

Danielle's parents (Polly Draper and Fred Melamed) parade her around trying to help her find a job post-college graduation while she tries to figure out how to handle conversations with her ex Maya (Molly Gordon), her sugar daddy (Danny Deferrari) and his wife (former "Glee" star Dianna Agron).

With Passover underway, "Shiva Baby" may be the the perfect movie to watch this holiday season – at least if you don't mind being a little uncomfortable with your relatives.

"I feel like there's always an uncomfortable moment at a Seder. Why not have it be around this film?" Gordon jokes on a recent Zoom call.

"I think it's a good movie for different generations to watch together," adds writer/director Emma Seligman.

Some plot points may require some explaining to older generations – i.e. what a sugar baby is and how there's an app for that – but others will apply to everyone. Feeling lost and stuck with problems (literally) swirling around you, for instance.

While film lovers of all backgrounds can enjoy the film, some one-liners cater to a Jewish audience (Agron's character Kim, who isn't Jewish, pronounces the dessert rugelach as arugula.) Moments like these (in addition to Danielle choking on a bagel with lox) may go over people's heads but they aren't dealbreakers in appreciating "Shiva Baby."

"You don't have to be a Jewish person to watch this film and understand the dynamics at play and feel that you've also experienced very similar things," says Agron, who is Jewish. The Jewish nature of the film, however, definitely made her family excited. "I had previously played a nun, so they were like, 'Finally you're stoking some of our kind of history in your filmmaking,' " she says.

Gordon, too, appreciated the chance to connect with her identity. "It was such a treat, to get to be in something that celebrates our culture and to be reminded of so many hilarious moments with my Jewish cousins," she says. "But also, it's such a universal movie just about family dynamics. So many of my friends who aren't Jewish feel so seen and connected to it."

The movie was filmed in August 2019, and everyone was piled on top of each other filming most scenes inside a single house. It's an especially harrowing watch given the social distancing measures due to the COVID-19 pandemic that have since taken place. "It was that sweaty, and it was that tight," Seligman says. "So that didn't hurt trying to alter the performances to make it seem more claustrophobic."

Watching characters crammed together in a small space, picking over a buffet of food and getting in each other's faces may startle some after spending a year in quarantine. Even vaccinated people "will say no to going to group events," after seeing the tight quarters movie, jokes Agron.

The former "Glee" star plans to watch the virtual GLAAD Awards next month, which will feature a tribute to on her late co-star Naya Rivera's character Santana. Rivera died last July, which Agron says is something that reconnected Agron and her castmates.

"It's been incredibly hard as you can imagine. Losing a friend is not something that you ever want to experience and it's not the first time," she says. (Rivera's passing follows the deaths of "Glee" co-stars Cory Monteith and Mark Salling.) "She was so spirited and so it's really brought a new kind of constant communication with all of us, which is so nice because sometimes as a cast you're not able to make as much time for each other." She feels a similar kinship with the "Shiva Baby" cast. "We've really created a bond where we've been in all different places during this time but we've stayed really connected," she says.