Archive for the 'Projects' Category
Posted by Sara on March 15, 2023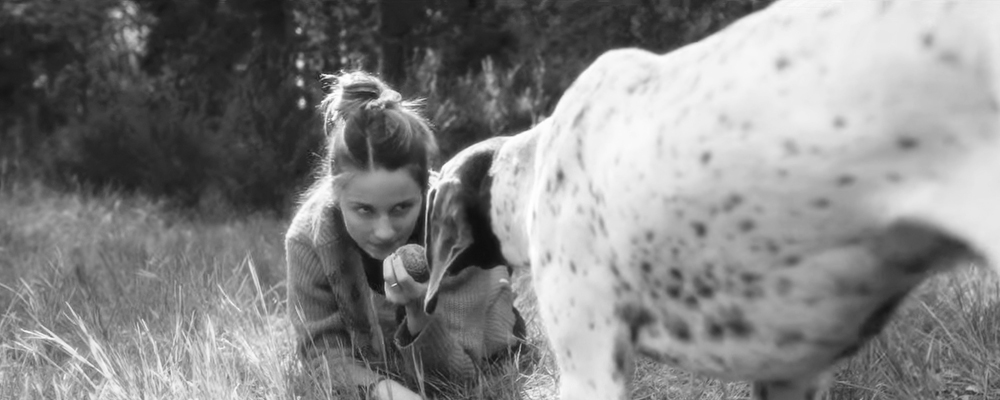 We finally have the first trailer for Dianna's latest film ACIDMAN, which premiered at Tribeca Film Festival last year! The film will be released in select theaters and on On-Demand on Friday, March 31.
Maggie (Dianna Agron) arrives at a small, run-down house in the middle of nowhere to find it defaced by big orange letters reading ACIDMAN and learns that this is the locals' nickname for her reclusive father (Thomas Haden Church). After a decade apart, Maggie's offhand explanation for her visit is that she just wanted to check in on him, but this doesn't ring true considering how difficult he was to find. The two awkwardly want to get to know one another (Dad seems more comfortable talking through his dog Migo, or through Bobby, Maggie's childhood sock puppet friend), but are at the same time scared about what increasing familiarity will bring.

After Dad reluctantly brings her on one of his nighttime outings, Maggie realizes that his obsession with UFOs and communicating with extraterrestrial beings has only intensified over the years. She struggles to understand him, his single-mindedness and deteriorating mental health, all the while with her own life-changing news to share. Letting their relationship ebb and flow through anger, silly jokes, tender gestures, and sadness, director Alex Lehmann leads the film in a beautiful meditation on the cyclical nature of parenthood and the longing for connection.
Posted by Sara on March 15, 2023
The first official stills for Dianna's new film Clock has finally been released and added to our gallery! The film will premiere at the Overlook Film Festival in New Orleans on March 31st, and there will be a second screening on April 1st. Tickets can be purchased here. If Dianna will attend a screening, we will of course provide photos!
Clock, a timely horror feature from 20th Digital Studio and Hulu Originals has dropped new images.

The film will have its World Premiere at the Overlook Film Festival in New Orleans, Louisiana before debuting exclusively on Hulu on April 28. The film will be available on Disney+ internationally at a later date.

Directed and written by Alexis Jacknow (Again, upcoming The Villager), Clock is the story of a woman who enlists in a clinical trial to try and fix her seemingly broken biological clock after friends, family, and society pressures her to have children. Dianna Agron (Glee, Shiva Baby) leads as Ella, with Jay Ali (Carnival Row, Daredevil) as her husband. Melora Hardin (The Office, The Bold Type) features as the pioneering doctor managing Ella's treatment.

Jacknow was tapped to write and direct two short films (Costume Change and the short Clock) under heavy Covid-19 restrictions in 2020 for the first season of 20th Digital Studio's "Bite Size Halloween." The feature version of Clock developed from there and is part of the studio's existing slate of horror features for Hulu, including Grimcutty, Matriarch, and the upcoming Appendage and The Mill.

Clock was developed by 20th Digital Studio with David Worthen Brooks, Arbi Pedrossian, and Jenna Cavelle as executive producers. Leal Naim serves as producer with Alex Hansen co-producing.

Jacknow is represented by Jeremy Platt & Tracy Kopulsky (Grandview), and Melissa Rogal at Lichter, Grossman, Nichols, Adler, Feldman & Clark. Agron is represented by Josh Glick (Grandview) and Nina Ramer & Steve Warren at Hansen, Jacobson, Teller, Hoberman. Hardin is represented by Samantha Crisp (The Kohner Agency), Maryellen Mulcahy (Framework) and Carolyn Conrad at Schreck Rose Dapello Adams Berlin & Dunham. | Deadline
Posted by Sara on April 06, 2022
The family depicted in "As They Made Us" is unhappy in its own way, but even Tolstoy would have to admit that these folks aren't as interesting as they could be.

Mayim Bialik's feature writing and directing debut was inspired by some of her own relationships. The movie rings true, with just enough convincing, oddball details to distinguish it from the generic run of dying parent dramas. Still, this fictionalized family — let's call them the fraying Frays — seems like it could have been imagined with more distinctive traits, anxieties and issues.

The film is worth watching thanks to a flawless central performance by "Glee" alum Dianna Agron, solid elder annoyance shtick from Candice Bergen and Dustin Hoffman, and Bialik's "Big Bang Theory" co-star Simon Helberg locating his pain and relishing every minute of it.

Burlingame High School graduate Agron plays the stressed but resilient Abigail Fray, a divorced mother of two rambunctious boys with a nice enough ex (Charlie Weber) and a decent house, despite her only apparent income source being a column for Modern Jew magazine. She almost never works on that, by the way, and we can tell that her parents live modestly because Abi is always running over to their place.

Barbara Fray (Bergen) calls or texts whenever dad Eugene (Hoffman) falls and can't get up, or she has to fire another caretaker because they gave Eugene pot gummies or something. The movie jumps around in time, from Abi and brother Nathan's childhood with their combative, sometimes physically abusive parents, to various stages of the heroine's adult life. Every period is marked by different problems with the elder Frays that all, more or less, play out the same.

Barbara is stubborn, often wrong, likes her wine and always says the most inappropriate things. That reaches an embarrassing/amusing peak when Mom calls while Abi tries to get her cute landscaper Jay (East Bay native Justin Chu Cary) to come on in her kitchen, but Barbara's more often just flat-out appalling. Eugene's mulish too, but grows vulnerable as his never-specified degenerative condition moves inexorably into its final, fatal stage.

Nathan, played by Helberg as an adult, cut out on the domestic drama 20 years earlier after Eugene slapped the lad for wanting to have sex with his girlfriend. Odd, since the parents aren't religious and claim to be arty types from the Swinging '60s, but we all have relatives who get weird over things they shouldn't. Anyway, lots of Abi's fixer energy goes toward luring Nathan home to reconcile with Dad before it's too late.

There's something admirably centered about Agron's work. She waits until the last, logical moment to indulge in overt breakdown behavior, with a few nicely played steam-releases earlier on. Unlike her brother, Abi never lets well-earned exasperation with the elder Frays strangle her love, despite the many times they're just asking to be throttled. Both Bergen and Hoffman strike the right notes of obnoxiousness, agony and regret whenever required. But they're consummate pros plying their trade; Agron's is the only organic presence.

With cinematographer David Feeney-Mosier, Bialik displays a subtle sense of lighting and composition that makes "As They Made Us" look like more than a TV movie. The material is the kind of stuff that TV actors would consider a creative stretch, but this is hardly "The Father."

The project's original title was "As Sick as They Made Us," no doubt changed for reasons of taste. But if a dysfunctional family is going to make an impression, good taste should not be a factor.

L"As They Made Us": Family drama. Starring Dianna Agron, Candice Bergen, Dustin Hoffman and Simon Helberg. Directed by Mayim Bialik. (R. 96 minutes.) Opens at the Summerfield Cinema in Santa Rosa and available through video on demand starting Friday, April 8.
Posted by Sara on April 06, 2022
To promote their new film, As They Made Us, Dianna and Mayim Bialik sat down to discuss, well, pretty much everything! In the over one hour long episode, we get to learn more about Dianna's choice to choose smaller projects following her time on Glee, making art after processing grief, her experience growing up in hotels and so much more. It really is an incredible interview that I recommend listening from start to finish, as we get to know many new details about Dianna we've never heard before. The episode is also available on Spotify or Apple Podcasts, so that you can easily listen to Dianna speak even if you're in the middle of a busy schedule keeping you from watching the video of the recording!
Dianna Agron (As They Made Us, Glee, Acid Man, Shiva Baby) joins us to discuss what it was like to work with Mayim on her new film, As They Made Us. She opens up about her experiences growing up in hotels and her family's struggles after her father's multiple sclerosis diagnosis. Mayim and Dianna bond over the scrutiny they faced while publicly coming of age on a television show, the inclination to make art after processing grief, and the benefits of healthy compartmentalization. Mayim explains the process of writing her film in response to the loss of her father and why Dianna's character was the most difficult for her to write. She discusses body and emotional awareness in another installment of Moments of Peace and Calm.
Posted by Sara on March 29, 2022
Dianna talked to Allison Kugel recently, the owner of podcast Allison Interviews, and she just released an almost 20 minutes long sneakpeak at their interview! You can listen to it below. The full podcast episode will be released on April 8th, so make sure you check it out on whichever podcast platform you prefer.
Dianna Agron took television fans on a multi-layered emotional ride playing complex popular girl, Quinn Fabray, on the hit television series Glee, which ran for seven seasons on FOX, and was nominated for and won multiple Emmy, Golden Globe, People's Choice and Teen Choice Awards during its tenure. Through the series, Agron's character portrayed a foray of teenage girl issues, ranging from the common to the more dramatic. From cattiness and romance drama to matters of celibacy, teen pregnancy and adoption, her character may have appeared to be the beautiful, blonde popular cheerleader but harbored a great range of complex issues.

Since wrapping the show in 2015, Agron has gone on to build her resume in films, including winnder of this year's Independent Spirit John Cassavetes Award winning film, Shiva Baby, and this most recently, As They Made Us, starring Agron, alongside Dustin Hoffman, Candice Bergan and Simon Helberg, and written and directed by Mayim Byalik.

April 8th. Listen to and watch the entire interview on the Allison Interviews podcast on Apple Podcasts, Spotify, and on YouTube.
Posted by Sara on March 08, 2022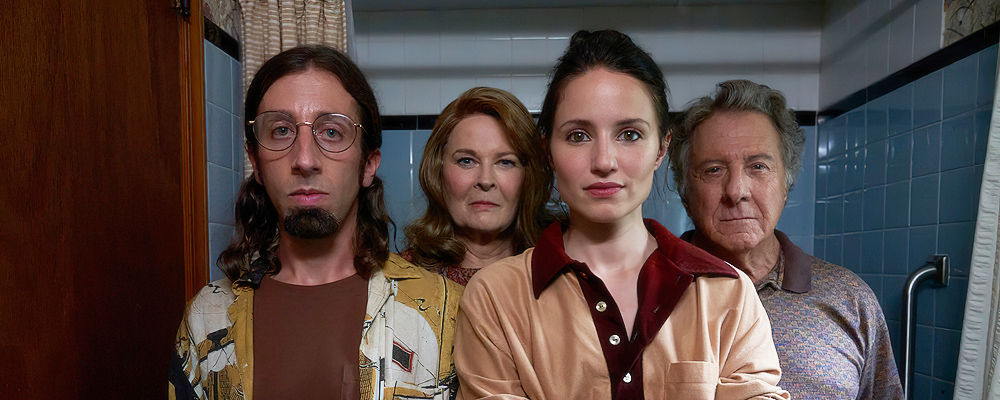 We have the first official trailer for Dianna's upcoming film As They Made Us! You can check it out below, along with an article about the film by USA Today. It looks really good, and thankfully we only have to wait another month before we can see it!
I have also updated our gallery with the first official still, promotional photo, film poster and several behind the scenes photos – big thanks to all our incredible followers on twitter who donated pics to us! And thanks once again to our friend Mike for some great enhancing work on several of the pics.
Mayim Bialik had no intention of directing a movie.

The "Big Bang Theory" star and "Jeopardy!" host began writing as a therapeutic exercise after her father, Barry, died in 2015. Seven years later, the result is "As They Made Us" (in theaters and on demand April 8), a mordantly funny family drama starring Dianna Agron ("Shiva Baby") and two-time Oscar winner Dustin Hoffman. The movie's trailer is premiering exclusively on usatoday.com.

"I consider the whole thing this wonderful accident," Bialik says. "There's a very specific year of mourning that we do in traditional Judaism. After that year, I felt an urge that I've never felt before to start putting down in writing a lot of my experiences and memories of grief. And literally, I ended up with a screenplay. I've never written one before."

"As They Made Us" follows the tightly wound Abigail (Agron), a newly divorced mother struggling to raise her two kids while looking after her father, Eugene (Hoffman), who suffers from a degenerative condition that makes it difficult for him to walk and move around. Even as Eugene's mind and body fail, his wife, Barbara (Candice Bergen), remains firmly in denial, and lashes out at doctors and caregivers.

Bialik's "Big Bang" co-star Simon Helberg plays Abigail's estranged brother Nathan, whom she tries to reconnect with before their dad's death. The film uses flashbacks to show how Eugene and Barbara's tempestuous marriage, combined with Nathan's teenage rebellion, led to the family's present-day dysfunction.

Bialik, 46, shot "As They Made Us" in New Jersey last summer. She caught up with USA TODAY to chat about what inspired the movie, reuniting with Helberg and whether she'll direct again. (Read the full interview with Mayim here)