Posts Tagged 'winston marshall'
Posted by Sara on January 11, 2019
Our favorite couple was snapped by photographers on their way to lunch in the Soho neighborhood of New York City yesterday, giving us the first candids of Dianna from 2019! She looked as cute as always, sporting a big smile and wearing a red flannel patterned overcoat and a black beanie. You can now find 18 high quality photos of Dianna and Winston from the day over in our photo gallery – thanks to my kind friend Maria for helping me with these!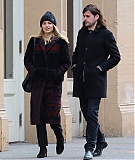 Posted by Sara on December 13, 2018
Hello Dianna fans! On December 11, our favorite couple was photographed out and about in New York City being all smiles. Dianna sported her "Forward Space" beanie, and she looked so cute! I really love this set. 13 high quality photos have been added to our gallery for you! Dianna was back in New York in time to be present at Winston's band Mumford and Sons' sold out show at The Garden later that same evening – if you want to check out some videos and pics from the concert, head over to our friend Dianna Agron Fans on twitter here. Enjoy the new pics!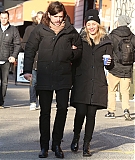 Posted by Sara on September 27, 2018
Dianna and Winston were photographed out and about on a stroll in their neighborhood in New York City again today, before kissing each other good bye and heading to opposite directions! It seems Dianna has been busy doing some supervision upon the venue preparation at the dance studio Forward Space today (make sure to check our previous post for more information), which might have been what she was headed for. Enjoy the adorable new pics, and stay tuned this weekend – hopefully we'll have some new photos of Dianna with the grand opening of the studio!