Posts Tagged 'appearance'
Posted by Sara on June 10, 2019
Hello Dianna fans! On June 4, our girl attended a special screening for 'Moving the Mountain' Commemorating the 30th Anniversary of Tiananmen Square in New York. High quality photos from the event can be found in our gallery! Sadly not many photographers were present, but enjoy the pics I've been able to collect so far. Dianna posed alongside Celine Rattray, Margaret Betts (her Novitiate co-star), Trudie Styler, and Dee Poku.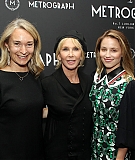 Posted by Sara on March 08, 2019
Hello everyone! Last night, Dianna was in attendance at the 'Fleabag' Opening Night Party held in New York City! She wore a black, knee-length coat with a matching leather jacket and dark trousers for the occasion, and looked great as always. The first 4 high quality photos have been added to our gallery for you, and I will keep looking for more. Enjoy! If you want to learn more about 'Fleabag', I've copied a short tidbit on it for you below.
Dailymail – She's been hailed for her sharp writing and dark comedy on BBC cult hit Fleabag. And Phoebe Waller-Bridge was joined by a star-studded turnout at the opening night party for Fleabag, the play that inspired the hit series of the same name, at Bistrot Leo bar and restaurant in New York City on Thursday. The director, 33, looked in high spirits at the event where she wore a navy pin-striped jumpsuit with a matching belt.

Phoebe originally performed Fleabag as a one-woman play at the Edinburgh Fringe Festival in 2013, winning the Fringe First Award. The success of the play led the writer and director to adapt it for television. The series follows Fleabag, a struggling millennial who runs a failing guinea pig café, constantly locks horns with her family and jumps from one dysfunctional relationship to the next. Its debut series scooped three BAFTA nominations (of which Waller-Bridge won Best Female Performance) with critics hailing it as a 'scathingly funny' portrayal of life as a single woman.