Here you can learn all about the music videos Dianna has starred in! To read about the ones she has directed, head over to our "Directing" page.
The Killers: Just Another Girl (2013)
Album: Direct Hits | Director: Warren Fu | Co Stars: The Killers | Views: 40,000,000 (August 2018)
In 2013, Dianna appeared in The Killers' music video for "Just Another Girl", which was filmed at Mack Sennett Studios in Silver Lake. In the video, Dianna plays Brandon Flowers in a variety of scenes reminiscent of some of the band's famous videos. It starts with Dianna in a Flowers-like blazer with feather shoulders performing on the set of Human alongside the other band members, Dave Keuning, Ronnie Vannucci, Jr. and Mark Stoermer. She continues to progress through the band's history and makes appearances in "When You Were Young", "Spaceman", "Mr. Brightside" and "Runaways" style sets among others. The video ends with both Dianna and Flowers singing onscreen before Dianna flips a giant switch that releases confetti. Keuning then walks away playing a guitar before the band's trademark "K" stage prop, used during the Day & Age World Tour, is shown. When reviewing the video, Rolling Stone noted that "It all adds up to a fun history lesson that makes perfect sense within the context of Direct Hits.
"Playing Brandon Flowers in their ten year anniversary video was so damn cool. For a few reasons. When I moved to Los Angeles to pursue my big dreams, Hot Fuss, their first album, was out. I would blast "Smile Like You Mean It" while driving over the canyons. Sing "Mr. Brightside" at the top of my lungs on a night out with friends. I can't believe it's been a decade of residing in LA and having the Killers in my life. I've seen them once it concert, it was in Hyde Park, and I ended up backstage with a few friends plus another crew, which included Prince Harry, Beatrice and Eugenia. Usually I would not choose to be backstage at a concert, but this one was something different. It was sprinkling, and the audience did not care. Thousands upon thousands of the most hardcore fans danced together in this beautiful manner. It was like two shows were happening at once, the boys onstage and the crowd below. Thankfully, the day of the shoot was just as good as I could have imagined. The boys are funny, sweet and self deprecating, Plus Warren Fu, our director is a true talent. It made me so very happy." – Read full interview in our library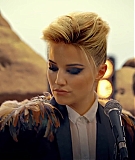 Sam Smith: I'm Not The Only One (2014)
Album: In the Lonely Hour | Director: Luke Monaghan | Co Stars: Sam Smith and Christina Elise Escobedo | Views: over 1 billion views
In 2014, Dianna starred in Sam Smith's music video for the song "I'm Not The Only One". They shot the video on July 8, 2014 in Los Angeles, and it was released on August 1st the following month. In the video, we see Dianna's character incredibly distraught after her man cheats on her – which wasn't an easy film to shoot, according to Dianna herself. "It does kind of put your body in a weird state, but it was fun. It's all in a day's work!" Part of that fun came courtesy of the car that Dianna is seen driving in the video. "It was one of Frank Sinatra's old cars! So it was a really cool energy on set." (Read full interview in our library)
"I tweeted Sam a long time ago and told him how important it was that I discovered his music. He tweeted me back, and we started messaging each other. Then the video happened, and we've become friends." – Dianna