Posts Tagged 'portrait'
Posted by Sara on January 22, 2019
During her visit at BUILD series last week, Dianna did a gorgeous portrait photoshoot at their studios. I have been waiting for high quality outtakes to appear online, but unfortunately it looks like we will just have to settle for medium quality for the time being – they're still really stunning! She was photographed in front of both a black and a pink screen, and the result is very pretty. Check out the 5 released portraits in our gallery, and keep checking back as I hope to eventually replace them with HQs! Soon I'll also share more exclusive old outtakes, but I'm unfortunately still waiting for my computer to be repaired.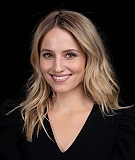 Posted by Sara on November 12, 2018
The photographer Louis Browne has been photographing portraits for Mumford & Sons' new album "Delta", and as the band member Winston Marshall's spouse, Dianna is featured! He just shared a stunning shot from the photoshoot on his instagram, teasing what's definitely going to be a gorgeous portrait of our girl. Big thanks to my friend at @DiannaAgronFans for the heads up! The album will be released on November 16, hopefully we'll have a HQ scan then.
Update: according to Agron Updates, the band has taken portraits of fans, family member and friends over the last couple of months. All the photos will be shown at an exhibition following the release, and some will be featured in the album's booklet. I'll update you once I find out more about it!