"It was everything I wanted. I knew I wanted to do a play, but what I really wanted was to do an original piece, to create a character rather than step into a world that had already been created." – Dianna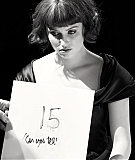 Written by:
James Phillips
Characters:
Alexander McQueen
Date premiered:
12 May 2015
Finale performance:
November 7, 2015
Place premiered:
St. James Theatre, London
With:
Dianna Agron, Sophie Apollonia, Amber Doyle, George Hill, Eloise Hymas, Jordan Kennedy, Rachel Louisa Maybank,Tracy-Ann Oberman, Laura Rees, James Revell, David Shaw-Parker, Stephen Wight, Carrie Willis.
McQueen is an unforgettable journey into the mind of British fashion's most notorious and brilliant artist, Alexander McQueen. McQueen discovers a strange and beautiful girl ('Dahlia', played by Dianna) lurking in the basement of his house. She says that she has been watching him from a tree in his garden for the last 11 nights. At first wary of this mysterious intruder, McQueen begins to believe that the girl might know him better than he knows himself. Together she and McQueen go on a wild trip through London at night, visiting the places and people (including fashion editor Isabella Blow) that have shaped him, looking for redemption, love and, as always, inspiration. McQueen is a new play by James Phillips (The White Whale, The Rubenstein Kiss, and City Stories), directed by John Caird (Honorary Associate Director of the Royal Shakespeare Company) with production design by David Farley, choreography by Christopher Marney, video design by Tim Bird, lighting design by David Howe, sound design by John Leonard, wigs design by Linda McKnight. A revelatory insight into the fairytale imagination of one of Britain's most iconic modern artists, this new production at The Theatre Royal Haymarket brings the poetic world of McQueen's shows to life in all their wonder.
Read all "McQueen" articles & interviews in our library | See all videos where Dianna talks McQueen in our video archive
Trivia
McQueen broke the box office record at the St. James Theatre in its first night, which was previously recorded by the musical Urinetown in 2014
---
Following its premiere run, the play was transferred to the West End's Theatre Royal, Haymarket from August 27 to November 7, 2015.
---
For the West End run, Dianna was unable to reprise her role due to existing commitments and Carly Bawden joined the production as her replacement.
---
The creative team didn't want Dianna to have a wig in the play originally, but she convinced them it was the way they should go. The team originally envisioned her with her blonde hair pulled up. Dianna stated "That is not the character. She's this dark, broken girl. I just don't envision Alexander [McQueen] conjuring up this little blonde girl with a bun on top of her head."
---
Critical Reception
McQueen has met with mixed reviews from critics. Kristy Wallace from 4 Your Excitement said that McQueen "should be watched by as many people as possible, and shows that James Phillips has a fantastically bright future in the theatre". She also praised Wight and Agron for their amazing jobs. Holly Williams for The Independent did not think the same way: "Dianna Agron is not good, I'm afraid. Her delivery is glib yet slow. I never believe the quick-fire rapport with McQueen, this performance is more blunt than a pair of old sewing scissors; it simply doesn't cut it." This was contradicted by Tom Millward from The London Theatre. He said that with McQueen, Dianna was able "to demonstrate her impressive talents as a performer". Gully Hopper from About Time Magazine thought that the play "will find sanctuary in the minds of fashion lovers, while avid theatregoers may need further convincing". (Wikipedia)
Photos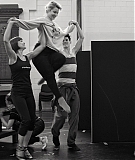 Official Trailer