*This page is still a work in progress*
At this page we will showcase some of the magazine spreads Dianna has had over the years. You can find information on the each feature, read her interview/article, find the magazine scans and behind the scenes footage or videos if available. We are always looking to expand this section, so please get in touch with us if you have a magazine Dianna is featured in which is missing from our list.
Please note that this section only covers her big editorial spreads, not all her appearances in magazines. If you want to check out her features in various papers and television magazines, we always try to keep our magazine scans section of our gallery as complete as possible.
Jump to: 2010 – GQ Magazine, October issue | 2012 – Nylon Magazine, January issue | 2013 – Nylon for Guys, September issue | 2013 – Vanity Fair France, October issue | 2015 – OK Magazine Australia, January issue | 2018 – Harper's Bazaar Malaysia, January issue
2010 | GQ Magazine – October Issue
For the October issue of GQ, the magazine teamed up with Dianna and her Glee co-stars Lea Michele and Cory Monteith, for a spread titled "Glee Gone Wild". The spread went on to receive a lot of criticism from parents of teenage "Gleeks" because of how sexy it was. Dianna went out and apologized for it shortly after – but they were given support by her brother Jason and their Glee co-stars, who reminded people that even though they played teens on screen, the trio were all in their 20s when they did the photoshoot. The photoshoot was done at the Juan Rodriguez Cabrillo High School in Long Beach, California, and the three of them discussed the show, their characters, their audtions and more.
– Outtakes from their photoshoot in our gallery
– Digital scans from the Magazine Spread
– Articles related to their photoshoot in our press archive
– A Behind the Scenes video from the set of the photoshoot
On Glee, Dianna Agron plays Quinn Fabray, who joins show choir after getting pregnant and losing her place as McKinley High's queen-bee cheerleader and Celibacy Club president. Rachel's the one who quotes Tinker Bell; Quinn, who gets some of the best mean-girl lines this side of Heathers, calls Rachel names like "treasure trail." They're Glee's Alexis and Krystle Carrington, which makes Agron and Michele its Joan Collins and Linda Evans, which means everyone wants to believe one of two things about them—that they're bitter rivals, perpetually on the verge of a catght, or (because this is Glee) that they're lovers in real life. When we talk to Michele, she talks about how much she misses living with Agron, whom she roomed with for six months after Glee was picked up, and when we meet with Agron at the Little Next Door restaurant, she's equally effusive about Michele. She's heard what people say about them. It doesn't bother her—she thinks it's funny, although sometimes she worries. She says that during the photo shoot for this article, "when it was just Lea and me, I was like, 'We're in skimpy clothes, we're up against each other. This is feeding those rumors.' I've never been shot in so little clothing." (Read Full Article)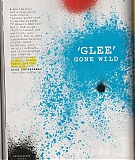 2012 | Nylon Magazine – January Issue
– Outtakes from their photoshoot in our gallery
– Digital scans from the Magazine Spread
– A Behind the Scenes video from the set of the photoshoot
THE BEATLES may have been the first point of reference for Dianna Agron's cover shoot, but they weren't the only '60s icons' to come into play. "The entire concept was about how we could transform her familar look and do something slightly different, but still keep it Dianna," saus hairstylist Jenny Cho. "Who better to represent that [time] than Twiggy and Edie Segwick?" Cho worked with makeup artist Georgie Eisdell and stylist Michelle Reneau to get the girl mod look just right. "Dianna was so excited about dressing the the theme," says Reneau. "Each time we walked her out of the wardrobe room in her mod looks, everyone squealed with excitement." In between takes, Agron chatted with the crew about new music, including an Adele concert she recently attended – proving that, even dressed as a retro muse, she's still undeniably modern.

WHEN WE FIRST started thinking about doing a huge portfolio devoted to '60s fashion and style inspired by the resurgence of mod looks on the fall runways, we quickly decided that the Beatles should be at the heart of it. The Beatles were the center of the pop-culture universe in the '60s, and the images of them and their wives and girlfriends from that era have always inspired me – the fascination was reignited by Martin Scorsese's recent HBO documentary George Harrison: Living in a Material World. If you haven't watched it yet, you should. Things were also pretty exciting in New York at that time, with Warhol, the Velvet Underground, and Edie Sedgwick rewriting a whole other set of style codes. It was awesome to go to the shoots in London and New York and see studios packed with amazing bands and actors all in full '60s gear – when you left the set and went back out on to the streets it was like going into a different world. Twiggy was the inspiration for the shoot with cover star Dianna Agron, which we did in an awesome house in West Hollywood. The place was like a time warp, with every detail totally '60s, right down to the LIFE magazines on the mid-century coffee table. Dianna was psyched on the theme. We also asked everyone in our portfolio for their favorite Beatles songs. (Transcribed by Dianna Agron Heaven from the spread)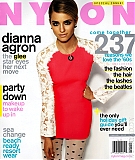 2013 | Nylon For Guys – September Issue
*Article will be up once available*
–
Outtakes from their photoshoot in our gallery
–
Digital scans from the Magazine Spread
–
A Behind the Scenes video from the set of the photoshoot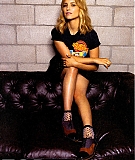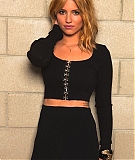 2013 | Vanity Fair France – October Issue
*Article will be up once available*
–
Outtakes from their photoshoot in our gallery
–
Digital scans from the Magazine Spread
–
A Behind the Scenes video from the set of the photoshoot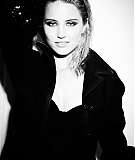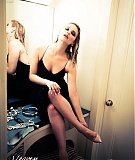 2015 | OK Magazine Australia, January Issue
– Outtakes from their photoshoot in our gallery
– Digital scans from the Magazine Spread
– Full article in our press archive, transcribed by Dianna Agron Heaven
The Glee star opens the doors of her stunning LA retreat to OK! With the final touches on Dianna Agron's LA home now complete, it's finally time to celebrate! The perfect blend of old Hollywood glamour and A Midsummer Night's Dream, the extensive renovations have been a labour of love for the 28-year-old Glee star, who is now happily making the most of her beautiful, tranquil surroundings. The food is on the table and the cocktails are on ice as she gathers her tight-knit circle of pals for a relaxed, informal dinner party to christen the pad. 'You can't work too hard without playing,' she says.

'I think that people vibe off your energy and I'm a pretty mellow person.' Single after splitting with Aussie actor Thomas Cocquerel in early December after nine months together, the actress – who was previously linked to fellow thespians Alex Pettyfer and Adam Brody – is now focusing all her energy on work and spending time with her girlfriends. 'You have to make time for everything,' Dianna says of such occasions. 'I do, definitely, for my friends'. One of her closest pals is celebrity chef Megan Mitchell – the brains behind many of today's tantalising dinner party treats, such as the mixed mushroom and thyme flatbread and the refreshinf pomegranate and mint cocktails. 'I wanted to do something light and refreshing, but also seasonal,' Megan says. 'The portions are just right, so everyone can let loose and relax, but so you're not hammered by the second drink.' With Glee now heading into its sixth and final season, Dianna has mastered the balance between work and play, returning to reprise her role as former Cheerios cheerleader Quinn Fabray. 'I think "moving on" might be the wrong choice of words because [Glee] is always going to be a part of me,' she says of the show ending. 'So it's not necessarily about a departure – it's about what it's imparted in me and what it's given me.' (Read full article)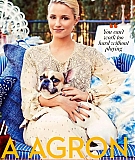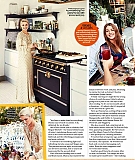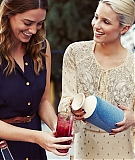 2018 | Harper's Bazaar Malaysia, January Issue
– Outtakes from their photoshoot in our gallery
– Digital scans from the Magazine Spread
– A Behind the Scenes video from the set of the photoshoot
Dianna Agron and I are in bed together at The Plaza Hotel New York, with a bowl of popcorn balanced between us. Our legs stretch out over pristine white sheets and we face each other as if the secrets at a sleepover are about to pour out. Clothes bags are piled at the foot of the bed, and from the bright-pink Eloise Suite across the corridor, the bustling murmur from the photoshoot seeps into the room.

It's funny to think that the woman beside me in languid repose, looking snug in a striped sweater and munching on popcorn, is the same person who moved so expertly in layers of embellished tulle, studded suede, and embroidered silk for the BAZAAR cover shoot just minutes ago. It's even stranger to think that this was the same person who catapulted to stardom as cheerleader Quinn Fabray in the hit TV series Glee, and that she recently played the conflicted Sister Mary Grace in Novitiate, an already critically acclaimed period drama about nuns in the 1960s.

Yet, they are one and the same, and with shining green-brown eyes and a voice the texture of red wine, Agron opens up about the different aspects of her character. For instance, trading pom-poms for rosaries or couture—and not to mention all the other style paraphernalia Agron's diverse repertoire of characters have possessed over the years—is just part and parcel of Agron's favourite fashion pastime: metamorphosis.

"As an actress, it's fun to put on different clothes and transform," Agron muses. "When you're promoting your film and putting on different dresses and things like that, I kind of like to go as far away from my own self as possible, because it's an opportunity to do so." Even during today's cover shoot, clothed in Louis Vuitton Resort '18, Agron glides from a steely gaze in sculpted suede-on-suede to grinning in a sequin dress. The shifts are partly driven by finding delight in the collection ("Louis Vuitton took me to my first fashion show in Paris in 2012 and it's always a joy to wear them"), but they are also fuelled by a chameleonic impulse. "My fear is that everything looks the same, and there's no difference between you in real life and you on set," she shares. (Read full article)