Friends and family convene at a beach house for the wedding of Lila and Tom. But things don't go swimmingly, mainly because of one thing that Lila and her maid of honor, Laura, have in common – Tom, the groom. Laura and Tom were an item before Lila came along and nobody seems able to forget that. With very few successful marriages to look up to, and friends that she's not sure she can trust, will Lila be able to go through with the wedding?
---
Character: Minnow Hayes
Director: Galt Niederhoffer
Written by: Galt Niederhoffer
Produced by:  Michael Benaroya
Premiere: January 24, 2010 (Sundance)
Release Date: September 10, 2010 (US)
Genre:  Comedy, Drama, Romance
Running Time: 1h35m
Country: United States
Language:  English
Budget: $4,500,000
Box Office: $123,820
Quick Links:  IMDB |  Photos |  Videos |  News & Updates |  Press Articles | Wikipedia
The Romantics is a 2010 romantic comedy film about Seven close friends reunite for the wedding of two of their friends, and problems arise because the bride and the maid of honor have had a long rivalry over the groom. The film is based on the novel of the same name by Galt Niederhoffer, who also wrote the screenplay and directed the film.
Photos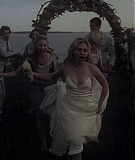 Starring
• Katie Holmes as Laura Rosen
• Anna Paquin as Lila Hayes
• Josh Duhamel as Tom McDevon
• Adam Brody as Jake
• Malin Åkerman as Tripler
• Elijah Wood as Chip Hayes
• Annabel Brooks as Sky Rosen
• Candice Bergen as Augusta Hayes
• James K. Schaffer as William Hayes
• Rosemary Murphy (in her last role) as Grandmother Hayes
• Warrent F. McKnight as Reverend Bartlett
Filming & Box Office
Budget:$4,500,000 (estimated)
Opening Weekend USA: $45,527, 12 September 2010, Limited Release
Gross USA: $103,280, 26 September 2010
Filming Locations: The Old Field, New York, USA and North Fork, New York, USA
Filming Dates: November to December 2009
Trivia & Goofs
Liv Tyler was originally cast as Laura, but was replaced by Katie Holmes, who also served as the film's executive producer.
---
It had its world premiere during the 2010 Sundance Film Festival. It was released in selected theaters September 10, 2010.
---
The film was critically panned. Review aggregation website Rotten Tomatoes gives the film a score of 15% based on reviews from 33 critics.
---
Shooting was originally going to start in summer 2009, but it didn't start until early November 2009.
---
After Tom disappears in the ocean and Laura finds him by the tree, he is completely dry and is somehow still wearing the suit jacket that he threw off before.
---
When Weesie comes in the house naked the strap from her thong is clearly visible.
---
At the end, when Laura and Tom are standing in pouring rain, their clothes remain completely dry.
Soundtrack
Preparedness
Performed by The Bird and the Bee
Brutal Hearts
Performed by Bedouin Soundclash
Funbags
Performed by Rod Thomas
Betray
Written by Ryan Lott
Performed by Son Lux
Gentle Floss
Written by Rod Thomas
We Can't Be Friends
Written by Lorene Scafaria
Performed by Lorene Scafaria
Giggle Stick
Written by Andrew Willingale
Preparedness (Live)
Written by Inara George and Greg Kurstin
Performed by The Birds and the Bee
This Will Be Our Year
Written by Chris White
Performed by The Zombies
Ready Steady Flow
Written by Andrew Willingale
Girls Aren't Suposed To
Written by Lorene Scafaria
Performed by Lorene Scafaria
Official Trailer