In the not-so-distant future, a team of white-collar criminals are enlisted by the Federal government to thwart
a cyber-attack that threatens to bankrupt the United States of America..
---
Character: Amelia Rhondart
Director: Aram Rappaport
Written by: Aram Rappaport
Produced by: Aaron Becker, Atit Shah, Hilary Shor, Peter Shuldiner, Isaac LaMell
Release Date: 13 January 2017 (USA)
Genre: Crime, Thriller
Running Time: 1h 25m
Country: United States
Language: English
Distributed by: Vertical Entertainment
Cinematography: Matt Turve
Cast: Minnie Driver, Frank Grillo, John Leguizamo, Mary McCormack, Christopher McDonald, Maggie Q, AnnaSophia Robb, Ed Westwick
Quick Links:  IMDB |  Photos |  Videos |  News & Updates |  Press Articles | Wikipedia
Set in the future when the US economy is on the brink of yet another massive financial crisis, The Crash tells the story of Guy Clifton (Frank Grillo), a federally-indicted stock trader, who is secretly enlisted by the federal government to help thwart a cyber-attack aimed at the US stock markets – an attack that could permanently cripple the economy. Our 'richer than God' protagonist is charged with assembling a team capable of running the government's top secret 'shadow stock exchange' in an attempt to keep the markets from mass panic in the event the cyber-hijack is successful. Having only ever been fueled by his love of money, Guy fully intends to use his insider knowledge of this world catastrophe for personal gain until he unearths the organization behind the attack and discovers its motives. For the first time in his life, Guy is challenged to make decisions not only for himself, but also for the good of his country – decisions that are rooted in morality rather than dollar …
Photos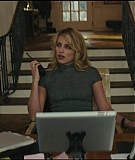 Trivia & Goofs
The film's titled was changed to The Crash from Jekyll Island by the film's distributor Vertical Entertainment. Jekyll Island is an island on the coast of Georgia.
---
Frank Grillo and John Leguizamo previously co-starred together in The Killpoint mini-series.
---
The postscript of the movie states that, since the creation of the Federal Reserve, there has been, on average, one financial crisis every 10 years. Actually, in the first 75 years of its existence, there has only been one (1929). The 10 (to 15) year cycle of financial crises occurred before the Fed's creation (and returned with Reagan).
---
Edward Douglas of Film Journal International called the movie "an entertaining film that tries to point out the flaws in the American financial system with a short running time that insures it never wears out its welcome."
---
Dianna on the film
– "Getting into character on this new project, "Conspiracy on Jekyll Island" has been fairly seamless. The team is supportive, communicative, and my wardrobe is the best thing I have ever experienced. She's a badass, she knows it….there is nothing exceptionally feminine about her and she is unapologetic. It's delicious. It's day two of me being here, we had a cast dinner last night and also had some vodka shots. A great unifier. Right? It seemed so at the time. We definitely had our initiation and deep bonding. So now, tomorrow, day one of shooting for me is going to be even easier."
Filming & Box Office
Opening Weekend USA: $1,767,823, 13 January 2017, Limited Release
Cumulative Worldwide Gross: $3,180,500, 13 February 2017
Principal photography, beginning November 2013, took place in Chicago, Michigan, Indiana, New York City, Washington, D.C., London and Paris.
Official Trailer