Budget cuts force two rival ambulance companies and their misfit medics to go head-to-head to save their patients, their jobs and their beer money, all in the name of emergency medicine..
Character:
Director:
Karl Kozak
Written by:
Karl Kozak, Don J. Rearden, Kraig Wenman
Produced by: 
Karl Kozak, Bill Bragg, Thomas A. Seitz
Release Date
: October 5, 2007 (San Diego)
Genre: 
Action, Comedy
Running Time:
 1h25m
Country:
 United States
Language: 
English
Budget:
 $5,000,000
Production Company:
 Diversa Films
Cast:
Tyler Poelle, Mikey Post, Scott Dittman, Les Jennings, Kathy Uyen, James Piper, David Schultz
Skid Marks is a 2007 independent comedy film about two rival ambulance companies and their attempts to maintain themselves in their city, in which Dianna stars as Megan. The film had its theatrical premiere on October 5, 2007, in San Diego, and in 2008, screened at the Dances With Films Festival in Los Angeles.
Quick Links:  IMDB |  Photos |  Videos |  News & Updates |  Press Articles | Wikipedia
When budget cuts in the sleepy town of Bayside force the locals to choose between one of two rival ambulance companies, the competition to be the best quickly devolves into a battle of sheer stupidity in this raunchy comedy from ~San Diego Film Festival co-founder and programming director Karl Kozak. Bayside Ambulatory Life Services (B.A.L.S.) and the Downtown Intensive Care Unit (D.I.C.) have always shared a friendly rivalry, but when both companies realize that there's only room in town for one ambulance service, the race is on for each to prove they can save more lives than the other. Unfortunately, competence isn't a strong point for either D.I.C. or B.A.L.S., and before long these bumbling EMTs are more concerned with their bruised egos than their ailing patients
Photos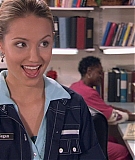 Filming & Box Office
Filming Locations: Filming took place over a six-week period during June and July 2006 at locations in San Diego, California, in areas including Kearny Mesa, Point Loma, Hillcrest, uptown San Diego and several beach areas
Budget: $5,000,000 (estimated)
Trivia
Filmed entirely in San Diego, California using two ambulances from a defunct private ambulance company (Star Ambulance). The red "DIC" ambulance is painted with the scheme for Rural/Metro ambulances (San Diego City's contracted 911 service), while the blue "BALS" ambulance maintains the color scheme of Star Ambulance. Throughout the movie it can be seen that the interior door jambs of the red "DIC" ambulance are in fact the same blue color as the "BALS" unit.
---
Rated R for sexual content, crude humor, language and some drug use
---
Tagline: A hardcore comedy about softcore medics.
Reception
Scott Rosenberg previewed the film in Monsters & Critics. Upon release, the San Diego Union-Tribune wrote that the film's world premiere in San Diego "packed a full house." North County Times wrote that the film looks to "place itself somewhere near the company of such comic legacies as Animal House and Caddyshack," but offered that such may not happen as fans of such films "rarely allow comparisons." The review noted that the film was directed with "visual flair and good instincts," and performed "with an admirable lack of humility."
In commenting on the home video release of Skid Marks, DVD Verdict called the film a "cheap-'n'-cheesy low-ball, gross-out comedy", and wrote that the two rival companies names, Bayside Ambulatory Life Services and Downtown Intensive Care create acronyms that clue viewers to the general tone of the film and most of its humor. They felt that it was an unremarkable indie film that was "frequently funny" but more often "frequently stupid," seeming to be aimed at a junior high school audience. They offered that the DVD release was decent and its image "reasonably good given the $1.98-style budget", and that "the producers don't try to obviously fake things to make it all look higher level than it is."
Trailer