Set in the early 1960s and during the era of Vatican II, a young woman in training to become a nun struggles with issues of faith, the changing church and sexuality..
Character: Sister Mary Grace
Director: Maggie Betts
Written by: Maggie Betts
Produced by:  Carole Peterman, Celine Rattray, Trudie Styler
Premiere Date: January 20, 2017 (Sundance)
Release Date: October 27, 2017 (United States)
Genre:  Drama
Running Time: 2h 3m 
Country: United States
Language:  English
Box Office: $580,346 (North America)
Cast: Margaret Qualley, Julianne Nicholson, Morgan Saylor, Maddie Hasson, Liana Liberato, Melissa Leo
In December 2015, it was announced Dianna would be starring in the upcoming period drama film Novitiate, alongside Melissa Leo and Margaret Qualley. Filming began the following January in Nashville, Tennessee, and premiered during the 2017 Sundance Film Festival.
Quick Links:  IMDB |  Photos |  Videos |  News & Updates |  Press Articles | Wikipedia
Plot
This is a story of the effect of Vatican II (1962-65) on the Catholic Church, as seen in one convent, through the eyes of the tough old-fashioned Mother Superior, the kinder, younger, and more modern nuns, and the Postulants and Novices, particularly Sister Cathleen. In 1954, seven-year-old Cathleen Harris lives in rural in Tennessee with her mother, Nora, a factory worker, who is non-religious but wants to show Cathleen a church and let her make her own decision. Cathleen's father, Chuck, comes home late, drunk, and argues with his wife. Chuck eventually leaves. Nora supports herself and picks up a series of men for one-night stands. At age 12, Cathleen seeks love of her own, and finds it in Catholicism when two nuns visit her home and offer her enrollment at a Catholic girls' school. The school offers her free tuition and a full scholarship to any college Cathleen chooses if her grades are excellent. At the school one day, a young nun befriends Cathleen and describes how she is married to Christ. At age 17 in the year 1964, after Cathleen comes home from school and runs into another one of her mother's pickups, Cathleen decides to leave home and give her life to God.
With twenty other girls, Cathleen joins the Sisters of the Beloved Rose. She will be a postulant for six months in their convent, after which she will become a novice for a year and a half, and then make her final vows to become a nun. The Abbess, Reverend Mother Marie Saint-Clair, is tough, cold, traditional and largely responsible for training and disciplining the postulants. She leads the postulants through the weekly "Chapter of Faults," in which they must publicly confess to all their faults and face the accusation of the other postulants, for which Mother Superior assigns extreme, humiliating penances, including "The Discipline," a knotted whip that they use to flagellate themselves.
Sister Mary Grace, a young, warm, kind, and progressive nun, is the Postulant Mistress, who tries to make life easier for them. Most of the day is heavily regimented, but sometimes the postulants fall into girlish activities and giggling. Cathleen tends to avoid interacting with the other girls and spends her free time alone and reading from the Bible.
Mother Superior keeps getting envelopes from Archbishop McCarthy about Vatican II, which she ignores. Sister Mary Grace sees the documents, and says that change would be good. Mother Superior cuts her off with, "The Church is perfect exactly the way it is." Later, they argue, and Sister Mary Grace challenges Mother Superior's authority. Sister Mary Grace goes off to pray, and decides to leave the convent.
After six months, Cathleen takes her Simple Vows and becomes a novice. As Reverend Mother grows increasingly harsh, 18-year-old Sister Cathleen undergoes a sexual awakening. Cathleen stirs one night after masturbating in her sleep. She stops eating and interacting with the other novices and nuns over her "impure thoughts". When her mother visits the convent to deliver news about her father Chuck's passing, she notices Cathleen's pale and emaciated appearance. Nora threatens the Reverend Mother over her daughter's treatment, but Reverend Mother bushes it off, saying that Nora no longer has a daughter but that Cathleen has now given her life to the Church. Cathleen eventually collapses during dinner one evening from starvation and dehydration, she is sent to the infirmary for several days where she confides in another young nun, Sister Emanuel. Later on, Cathleen sneaks out of the infirmary and into Sister Emanuel's room where Cathleen tells her that she longs for "comfort," leading to a kiss and their having sexual intercourse. After this, Cathleen leaves the infirmary and shows signs of recovery, is eating again and showing quiet happiness, but neither she or Sister Emanuel ever discuss their sexual encounter.
Meanwhile, Archbishop McCarthy pays a visit to the convent. He tells Mother Superior that "this order in particular" is having difficulty embracing the changes of Vatican II. She dismisses the "ridiculous reforms." He tells her that if she can't adapt to the changes, she will be replaced. As for "that old medieval stuff," the extreme penances, "That's gotta stop." Mother Superior is devastated. She fears God has abandoned her. At a subsequent Chapter of Faults, a novice confesses that she questions God's existence. Mother Superior tells her she's tired of hearing of her spiritual wretchedness and assigns her no penance at all. When Cathleen goes next and confesses feeling the need to be emotionally comforted and about her one-time sexual encounter with another nun, she refuses to give away the nun's name and only asks for penance. Mother Superior forces Cathleen to crawl on her hands and knees and to beg for penance from each of the other novices, which finally brings Cathleen to tears. Mother Superior grants penance to Cathleen anyway. Afterwards, Sister Emanuel leaves the convent without saying goodbye to Cathleen.
Eventually, Mother Superior calls the congregation and reads aloud the Archbishop's memo about Vatican II. Priests will say the Mass in English, and face the congregation. Catholics must embrace religious tolerance. Nuns are no longer required to wear habits and can wear whatever they wish as their status is now reduced and equal to any lay Catholic. Of the original twenty postulants, only five are left to profess their final vows to become solemnly professed nuns, among them is Cathleen. At their mass of Solemn Profession, the priest asks each of the novices, "What do you seek?" One answers that she wants to take her vows and marry Jesus Christ. The priest then asks Cathleen the same question. She answers, "I seek something more." (Source)
Photos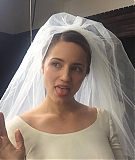 » Photos: All "Novitiate" photos in the Dianna Agron Heaven gallery
Trivia & Goofs
Dianna and Margaret Qualley previously worked together on a short film Dianna directed, called L'Americaine
---
Margaret Qualley and Chris Zylka previously worked together in HBO's "The Leftovers."
---
Premiered at 2017 Sundance Film Festival, where it was acquired by Sony Pictures Classics.
---
Dianna and Denis O'Hare both have worked with Ryan Murphy.
---
Novitiate is writer-director Maggie Betts's feature film directorial debut; her last projects were the 2010 documentary The Carrier, and the 2014 short Engram.
---
At Sundance Film Festival, the film was nominated for the Grand Jury Prize and Maggie Betts won the Special Jury Prize – Breakthrough Director award.
---
Betts was nominated for the Bingham Ray Breakthrough Director Award at the 2017 Gotham Independent Film Awards.
---
At the beginning of the movie, a train is seen that consists of double stack container cars. The movie is set in the early 1960's but double stack containers were not introduced until 1984.
---
Dianna got engaged a week and a half before she started filming "Novitiate", and said she found it really interesting to play a character that was currently at such a different place in her life from what she was in her real life.
Filming & Box Office
Filming Locations:
– Scarritt Bennett Center, Nashville, Tennessee, USA
(The convent of the Order of the Sisters of Blessed Rose)
– Former Robertson County Schools Central Office, 2121 Woodland Street, Springfield, Tennessee, USA
(Our Lady of Blessed Sorrows School)
– Nashville, Tennessee, USA
Filming Dates:
January 2016
Box Office:
Opening Weekend USA: $22,724, 29 October 2017, Limited Release
Gross USA: $580,346, 11 February 2018
Reception & Reviews
On review aggregator Rotten Tomatoes, the film has a score of 88% based on 88 reviews, and an average rating of 7.3/10. The website's consensus reads, "Led by a gripping performance from Melissa Leo, Novitiate grapples uncompromisingly – and ultimately compellingly – with questions of faith and feminism." On Metacritic, it has an average score of 73/100 based on 30 critics, indicating "generally favorable reviews."
After the Sundance screening, Variety said: "Cathleen's dedication to convent life wavers, however, as other girls are removed from the group for reasons that have little to do with their fundamental faith. By the time one of their instructors, the kindly, forward-thinking Sister Mary Grace (a precise, poignant turn from "Glee" alum Dianna Agron) abruptly leaves the Roses, it's clear that something is amiss in the administration of the Reverend Mother — who can't maintain her stubborn denial of directives from the Vatican for much longer. As her resistance attracts the attention of the Archbishop, "Novitiate" expands from a very particular coming-of-age story into a fascinating war of ideals between opposing factions and generations of Catholicism — one that bears (and more than survives) comparison to John Patrick Shanley's 1964-set "Doubt," in which the rulings of Vatican II also upended a conservative convent's power structure."
The Hollywood Reporter followed with another good review on the film: "Who could ever imagine that a film about nuns struggling to come to terms with the Second Vatican Council (aka Vatican II) might be sexy? But that's exactly what Novitiate is, as well as being stylish, impressively performed and intellectually ambitious as it explores convent life in the early 1960s, capturing a specific historical moment when the Church underwent an irrevocable theological shift. Writer-director Maggie Betts' feature debut is, forgive the pun, something of a revelation given her previous work — a documentary, The Carrier, about an African family dealing with AIDS and a short, Engram, that prominently featured clothes by Prabal Gurung — suggested no special interest in matters ecclesiastical. But this arresting work, starring Margaret Qualley, Julianne Nicholson and Melissa Leo as well as a celestial choir of up-and-coming young female actors, mesmerizes as it probes a uniquely female-dominated milieu where passions — both religious, sexual and a combination of the two — run hot under those starched, lily-white coifs and black habits."
Dianna on the film
– "I didn't know about the massive reforms in the Catholic Church, which is what we're covering in this film. I grew up Jewish as well, so it really was a departure from the world of religion that I knew. Whether you're very religious or not, faith isn't dependent on going to an organized religion, going to a temple, church, mosque, etc. And I liked investigating what that was for my character."
– (On her character) "Sometimes when you're questioning whether or not you're in the right place, right time, and the right space, you just need a moment to breathe. Then, sometimes you have to make a change, which she did."
– "We were all excited to work together and work with Maggie [Betts, director], who was so clear in her vision and in what she wanted. The wardrobe and the set design and all the other women being so closely around, it really was so transformative."
– (On her wardrobe) "You can't hear properly, and the wimple is truly a corset for your head: It's tied as tight as possible. The second I would get out of those clothes, particularly the headpiece, I would shake my whole body out, and shake my hair out, and jump up and down. Margaret [Qualley] and I have spoken about this a lot—both of us were ballerinas, and with dance, you have to be so graceful and elegant; there's a lot of restriction and rules, but you don't have clothing that's also adding to that. This way of life for those women in the convent, it is restrictive and lonely."
– "I thought about how often I'm hugged or kissed, or my hand is held. Just varying levels of physical affection. To not have that at all, it was so hard to imagine that. In that moment, she's trying to comfort herself and feel this kind of physical love, but she's ashamed by it, and that scene is so heartbreaking for me. We shot it in one take, and Maggie came up to me and was like, "I don't know how you could do that better, but if you want to give it another go…." The second time, I was crying really hard, though we didn't use that one. But I was so heartbroken for her in that moment."
– "I was taking my husband to Temple for the first time with our friends. We had this whole plan: go to the Carlyle Hotel, meet with Maggie [Betts]. Because it was Yom Kippur, he and I were going to eat a really big dinner before temple, but what ended up happening as I fell so in love with Maggie [is] that we had a martini, which also comes with a sidecar, which is essentially another martini, so I had two martinis and no food. [During drinks] I'm getting so many texts from him like, 'Hey, are we still having dinner? Are you OK?' So he hurries over, we eat a handful of nuts and race off to temple, and the whole time I'm thinking like, 'This is all so wacky and wild.' One, I'm so in love with Maggie. I'm so happy we're doing this movie together. [Two], how am I now drunk at temple for the first time? And who am I? On Yom Kippur of all the things that you're not supposed to do. Sitting through this three-and-a-half-[hour] service, thinking about all kinds of religions, not just Judaism, this project. I'm like, 'I really did not do this day properly,' but it was one of those things where our schedules were kind of pulling us in and out of places. It was just a very, very funny experience to have that be our entryway."
– "Maggie did such a great job of giving us a little bit of time for rehearsal prior to filming in which we had all of those fittings. The habit and the wimple are two really important factors in stepping into that world. Especially that headpiece [the wimple], which has to be fastened so tightly. Just how much discomfort I fared during the day—I could barely hear what people were saying to me. Immediately, when I put on that outfit, I felt that I needed to be full of grace, very stern, and standing proper."
– "It's very helpful having the younger novices around because any time I would exit a place of severity [with my character], they would be giggling on the lawn or doing cartwheels. They are so full of life; all of those girls are so sweet and fun and very giving to me. It was a very well-rounded experience where we had work to do on set, and we're very dedicated and serious with that, but also had a lot of fun."
Promotion
The Novitiate cast began what would eventually become a long year with promotional work on the Sundance Film Festival in January 2017. Dianna kicked off the festival by attending the Maven Pictures Party on January 19.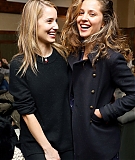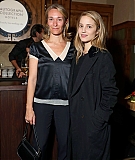 On January 20 it was premiere day! The whole Novitiate cast and crew stepped out for the big screening, followed by an after party in The Stella Artois Filmmaker Lounge at the festival. In addition to the premiere and after party, the cast did a couple of joint portrait sessions in their premiere outfits! The photoshoots were done for different studios and presented by DIRECTV.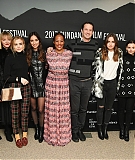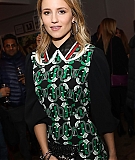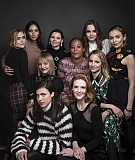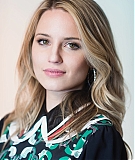 On the day following the premiere (January 21), there was no time to rest for the Novitiate girls. They started the day by holding a photocall, and paid a visit to the Variey Studio at the film festival. While at the Variety studio, the cast did both a portrait photoshoot and a full cast interview. They also stepped by several other studios, and did portrait sessions for Variety, The Hollywood Reporter and Deadline.
Gallery Album and Video links:
» Photos: Portraits by Jana Kramer in the Dianna Agron Heaven Gallery
» Photos: Portraits by Variety in the Dianna Agron Heaven Gallery
» Photos: Portraits by The Hollywood Reporter in the Dianna Agron Heaven Gallery
» Photos: Portraits by Deadline in the Dianna Agron Heaven Gallery
» Video: The Novitiate Girls' "Variety" Interview in Dianna Agron Heaven's Videovault
» Video: The Novitiate Girls' "The Hollywood Reporter" Interview in Dianna Agron Heaven's Videovault
Later that year, the Novitiate gang headed to the annual Toronto International Film Festival in September! The girls stopped by the Variety Studio on September 9, and did a string of different portrait sessions for various magazines and photographers (find all the TIFF portrait sessions in our "2017 Photoshoots" category in our gallery here). In the evening, they went to the HFPA & InStyle Annual Celebration Of Toronto International Film Festival.
The next day (September 10), the girls attended the 'Novitiate' premiere at the Scotiabank Theatre during the film festival. Dianna opted for a bold Christian Dior dress for the event, and looked gorgeous while posing with her co-stars Margaret Qualley, Melissa Leo, Julianne Nicholson, Maddie Hasson, and Rebecca Dayan.
On October 26, Miu Miu & The Cinema Society hosted a screening of 'Novitiate' at The Landmark at 57 West. This was the New York premiere for the film, and Dianna dazzled in a beaded teal gown by Prada for the occasion! Before the premiere, the cast stepped by the Build Studio for an appearance on their "Build Presents…" live show.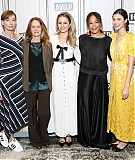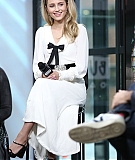 Dianna then wrapped up the official promotion for the film with an appearance on The Late Late Show With James Corden on November 2, together with Kristen Bell (who she once co-stared with on Veronica Mars!). In addition to discussing Novitiate, Dianna told a story of how a mosquito made her whole face swell up during her honeymoon!
Gallery album and video links
» Photos: Stills from The Late Late Show With James Corden in Dianna Agron Heaven' gallery
» Video: Dianna at The Late Late Show With James Corden in Dianna Agron Heaven's videovault
Official Trailer