A young girl in Nevada becomes romantically involved with a female drifter who introduces her to a life of stripping, drugs, and metaphysical experiences that teach her what happens when real life catches up with dark fantasy..
Character: Sarah Barton
Director: Natalia Leite
Written by: Natalia Leite
Produced by: Alexandra Leite, Natalia Leite, Chad Burris
Release Date: 30 October 2015 (USA)
Genre:  Drama, Romance
Running Time: 1h 30min  
Country: United States
Language: English
Cinematography: Tobias Datum
Edited by: Joe Murphy
Cast: Chris Zylka, Louisa Krause, Paz de la Huerta
Quick Links:  IMDB |  Photos |  Videos |  News & Updates |  Press Articles | Wikipedia
Plot
Sarah Barton lives in a small Nevada desert town with her mother and works as a cashier. After a co-worker's complaint causes her to lose her job, she meets Pepper, a drifter who has crashed at an antiques store owned by her family. Intrigued by Pepper, Sarah allows her to stay at the store until she can find a place to live somewhere else. Sarah begins hanging out with Pepper and becomes drawn into Pepper's partying lifestyle, to the annoyance of her boyfriend, Haden, who does not understand why she has so little time for him. Haden offers to get her a job where he works and to let her stay with him, but she declines both offers.
On a trip to Reno, Sarah follows along as Pepper cons a gambler into giving them money to play blackjack. After celebrating their winnings, Pepper reveals that she works at a strip club, called the Blue Room, as a bartender. Sarah initially takes a job at a fast food restaurant but soon tries out for the strip club instead. The strippers laugh when Sarah suggests that Pepper is a bartender. One of the strippers gives Sarah a free sample of an unspecified drug (presumably cocaine), and Sarah goes out on the stage. After Sarah and Pepper ingest peyote in the desert, Pepper admits that stripping is addictive and difficult to stop, as the money is good. The two women promise each other that either will quit if the other does. The two then confess their mutual attraction to each other and have sex for the first time.
Meanwhile, Haden and Sarah's other friends become worried about her, as she has kept her new life secret from them. Sarah breaks up with Haden, telling him that they have gone in separate directions. When the other strippers tell Sarah that Pepper has worked in the past as a recruiter and seduced other women, Sarah becomes worried that she has been used. Pepper first denies everything but admits she has worked in the past as a recruiter; she still denies that she intentionally recruited Sarah or used her. After they reconcile, Sarah insists on paying off Pepper's debts so they can run away together and start over somewhere else.
However, an altercation breaks out at the strip club when a man accuses Pepper of not paying back the full debt. Sarah intercedes on Pepper's behalf, only to panic when she sees Haden and another friend about to enter the club. As she attempts to slip out unnoticed, Haden discovers her and berates her. A cop, drawn by the earlier disturbance, breaks up the scene and arrests Sarah for possession of a controlled substance when she accidentally drops several drugs. Outed as both a stripper and drug-user, Sarah at first attempts to return to her friends but finds them too judgmental. After offering to pay back her mother for bailing her out by working at the fast food restaurant she applied to in the first place, the two tearfully embrace. Sarah tells Pepper that she has become tired of the lifestyle and it can not continue, as it is counter to her values. In the final scene, Sarah is seen hitchhiking out of town by herself. (Source)
Photos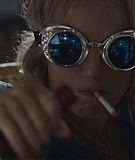 Trivia & Goofs
Dianna Agron worked in disguise at the same strip club (that caters primarily to truckers) featured in the movie before filming began. She introduced herself as a Texan visiting a cousin who lived nearby and took ballet training to dance in a particular way. She got to pick her own music to dance to (songs like "Mezzanine" by Massive Attack and "Hey Now" by London Grammar).
---
Goof: In the fast food restaurant scene when Jenny gets angry at her boyfriend for burping in her face, she gets up and leaves angrily. He gets up and follows her, leaving trash on the table (cup, napkins, etc). In the very next shot, the table is completely clean.
---
Director Natalia Leite wanted to cast two women who were willing to be totally raw and exposed on camera in the leading roles. She stated: "I wanted to find two women who were very different from each other to put those two contrasting energies together."
---
Bare was filmed in Albuquerque and Moriarty, New Mexico, and Reno, Nevada; it started on July 31, 2014, and finished on August 23, 2014.
Dianna on the film
– (On the Nude Scene) "I wasn't nervous to take this on because I knew how Natalia wanted to film it. We talked about movies like My Summer of Love and what the tone would be. It is a choice I made for myself because one, it is a beautiful part of real life, and two, I knew it was there for a reason."
– "I've been to a few different strip clubs, and as we all know, there is a wide variety. I prefer burlesque. The Crazy Horse in Paris is my favorite. I went ages ago and find myself always taking new people because they are all dumfounded by the beauty of it. These women are the most stunning dancers you've ever seen. I think stripping, dancing, burlesque—it can be quite powerful and quite liberating, depending on the terms. At the Crazy Horse it is an honor, a privilege. The girls aren't within reach. Strip clubs are quite different. Too often these women are doing it because they don't feel they have any other choice. It is the means to an end. They are stuck. It can be a dark underbelly. And yet, some have rules that protect the women. In some, you can't touch them and they can't touch you. It just depends."
– "I think it is my experiences in life that have made me understand sexuality in many different ways and, in playing Sarah, I was just showcasing my beliefs in that I believe that love comes in many ways, shapes, and colors. I feel proud that we as a society are starting to understand and support more than just the social norms."
– "I wanted to play a girl at a crossroads about to have a spiritual awakening. She is someone who is letting those around her make her choices for her, and isn't taking charge of her own destiny. I wanted to show that life doesn't just happen to you. At any given point, you have choices, and you have to decide what to do about them."
– "Pepper is headstrong, brazen at all times, full of passion. In order for me to play the submissive, I needed someone [like Paz] with that energy. And luckily that's what we had together"
– "The last two years have been challenging for me, because I have tried to make choices that are vastly different from the choices I have made before. I've tried not to repeat characters, or types of stories. Everything has been quite different and I am proud of that. What drew me to this role and story in particular was the chance to play a girl at a crossroads at a very important time in her life. Sarah is very innocent, and quite naive. She has the emotional capacity of someone much younger than she actually is. She is a person who is letting those around her make choices for her, and isn't taking charge of her own journey. Once she sees that she has other options, new things to discover, everything changes."
– "It was important to me that there could be a clear difference between the two of us, and our characters. In some ways, I would have wanted to be Pepper. Probably because she is closer to who I really am in some ways. She's headstrong, a nomad, she can brazen at times, full of passion."
– "Natalia and Alexandra [Leite, a producer on the film] are such badass women. They get things done, they have clear visions, and they are so talented. I love that they are carving their way in the industry, not simply for the fact that they are women, but because they have the talent to lead the way."
– "For somebody who's growing up in a small town, it's really easy to be a young person – or a person of any age – where you're kind of in a box. There are limitations to your life or things are being chosen for you. Sometimes it takes somebody triggering the notion that that's not entirely true. For Sarah, when she meets Pepper, there are so many things that are slightly dangerous about her…but at the same time, she's very real with her. Their relationship is very innocent and loving and playful. When Pepper tells Sarah she's beautiful, I think that's the first time she's heard someone be so open and honest and say something like that to her."
– (On the Snake Scene) "I had to maintain a real sense of calm. I had held snakes before, but [this] snake liked me. It kept crawling around my neck. At one point, they had to pull it off. It had wrapped around my neck twice. It was not a snake that could do any damage; it was an old snake. But the handlers said it had bitten someone once, years ago. I kept humming and because of the humming, it was keeping me calm and the snake happy."
Reception
Rotten Tomatoes reports that 43% of seven surveyed critics gave the film a positive review; the average rating is 5.9/10. Frank Scheck of The Hollywood Reporter wrote, "Performing her first onscreen nude scene, Agron is quite convincing as a character markedly different from her duplicitous cheerleader on Glee, well conveying Sarah's newfound sexual freedom and adventurousness." He also stated that de la Huerta was perfectly cast for her role as Pepper, though the film has as a "mundane storyline".
Katie Walsh of the Los Angeles Times wrote, "Director Natalia Leite brings an emotional intelligence and sensitivity to Bare that raises it above its smutty late-night cable premise of a small-town girl falling into a lesbian affair and exploring the world of stripping". John Stewart of The Slanted wrote, "The film is an wonderful departure for Glee's Dianna Agron and her performance with Paz De La Huerta is sure to spark a lot more work in the future for both rising stars. Also deserving praise is the writer and director of the film Natalia Leite, a young woman that is quickly cementing her reign over highly-stylized and sexually progressive dramas."
Promotion
"Bare" went to the 2015 Tribeca Film Festival in April, 2015. On April 19, the cast and crew attended the world premiere of the film at the SVA Theatre 2. Following the premiere, the cast attended the After Party for 'Bare' sponsored by LDV Hospitality at No.8.

On the day after the premiere (April 20), they continued the film promotion by holding a panel at the Apple Store Soho. Dianna attended with Natalia Leite, Alexandra Roxo and Paz de la Huerta.

The cast also did some portrait sessions for promotional purposes, which were taken on April 20 during the film festival.

Official Trailer