Posts Tagged 'videos'
Posted by Sara on March 08, 2022
What a weekend, Dianna nation! The 2022 Film Independent Spirit Awards were held in Santa Monica this Sunday (March 6, 2022), and it became a very succesful night for Dianna and her Shiva Baby team. The film won the John Cassavetes Award, an award given to the best feature made for under $500,000 (award is given to the writer, director, and producer of the film).
Dianna also presented the award for best editing, which confusingly seemed to be presented during a commercial break along with cinematography and best international film. If you want to read more about the controversial telecast decisions which elicited boos and confusion among the guests, Vanity Fair has a detailed piece over here. There you can also read about the other winners! For the fashion interested, Dianna wore a sparkly chocolate crop top and soaring stilettos, designed by Prada.
It's a commercial break so everyone got up to mingle… and then, unexpectedly, Dianna Agron came out to present Best Editing during the break. (Very Oscars.) The winner is Joi McMillon for ZOLA (source)
There's definitely not a lack of content from the night, as we have been blessed with almost 200 HQ photos from the event itself, a gorgeous portrait session and several videos! I have also made screen captures from all clips I could find, and added those to our gallery as well. You can find all the new video clips in our video archive, big thanks to our friend fellintodianna for the one of Dianna presenting (FYI – the red carpet video page contains two separate clips.)
Video links:

Dianna Agron talks to Variety about Shiva Baby, the new West Side Story and more at the Spirit Awards' red carpet (March 6, 2022)

Dianna Agron presenting the Award for Best Editing at the Spirit Awards (March 6, 2022). Thank you to FellIntoDianna!
I have sorted the photos into different albums for easier viewing, and you can find all the links below the previews. If you'd rather simply browse all new additions, the event/photoshoot pics starts from this page and the screen captures from here. In total there's more than 700 new photos and screen caps added, and I hope to have even more in the coming days!
Posted by Sara on April 02, 2021
Hello and happy weekend Dianna nation! This is quickly becoming the best Easter ever, with new Dianna content every single day. In Creative Company shared their 'Shiva Baby' interview on Youtube yesterday, where they had a Q&A with writer & director Emma Seligman, Dianna and her co-stars Rachel Sennott and Molly Gordon. You can check it out below.
PS: Due to the low quality of the recent videos (zoom quality is sadly not the same as HD quality, but we're grateful to have any content at all during this pandemic!), I have decided to not add any more screen captures to our gallery. However, if you want caps from a certain interview, drop us an email or tweet and we will get it done for you.
Posted by Sara on January 16, 2019
Like we announced yesterday, Dianna was a guest at BUILD Series NYC's live show to discuss her Café Carlyle return earlier this afternoon! We have been blessed with a big batch of photos already (and I think we can expect even more later on – stay tuned on our twitter account for updates!), both of Dianna arriving at the studio, and of her during the actual show. Her whole interview has also been uploaded to YouTube for those of you who were unable to catch her live – or just want to watch it one more time – and can be viewed in full below. I have also uploaded screencaps for you to our gallery…
Acclaimed actress and singer Dianna Agron returns to Café Carlyle, January 22-February 2. From Marianne Faithfull and Nancy Sinatra to Nico and Peggy Lee, Dianna will be paying tribute to some of finest female-fronted acts of the '60s and '70s. By way of the hit TV show, "Glee," selling more than twelve million albums worldwide and tackling two major tours, she is no stranger to the stage. A resident of New York, she is thrilled to bring her voice back to Café Carlyle, something she feels cements her place in the city.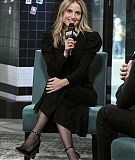 Posted by Sara on January 15, 2019
Hello Dianna fans! I hope you're ready for a day full of news, videos and photos, as our girl has a packed day full of "Café Carlyle" promotion in New York City on her schedule. One of the stops she made this morning, was a visit at 'Cheddar', where she discussed the Carlyle experience, and what fans can expect this time around. The full interview has been uploaded to their website, and I've attached it to the post for you below! Once you've seen it, you can find HD screen captures over at our gallery. Big thanks to our great friend Mike for helping me get the video to make the screencaps for the site!
Posted by Sara on January 11, 2019
Hello Dianna fans, and happy new year! I hope you all had a wonderful holiday, and that the new year has started off well for you. Hopefully 2019 will be a great year for Dianna, and we're certainly off to a good start – as we finally have an update on one of her upcoming film projects! 'Berlin, I Love You' (the latest installment of the Cities of Love franchise – Paris, je t'aime / New York, I Love You / Rio, Eu Te Amo) now has a release date, which is set for February 8th 2019 (USA). We also have the first official poster, featuring Dianna in her adorable pink beanie! I have uploaded the poster to our gallery, and below you can watch the trailer for the film in case you missed it last year (or just want to see it again, while waiting for the release). Dianna was one of 11 directors on the project, and she stars alongside big celebrity names such as Keira Knightley and Helen Mirren – I can't wait!
An omnibus of ten stories set in the German capital, this is the latest installment in the Cities Of Love franchise (Paris, je t'aime/New York, I Love You/Rio, Eu Te Amo), featuring a star-studded cast including Keira Knightley, Helen Mirren and Luke Wilson.
Posted by Sara on November 11, 2018
I'm making up for a couple of weeks with no updates with a second one today! And for this one, I have a little treat for you. After our big public events screencaps update at the end of last month, I have received several requests from our twitter followers asking if I can share the videos used; and as promised, I have now added the first batch to our video archive! The new videos are all of Dianna at various public events, and span from 2009 and all the way up until last year. She's such a joy to watch, and I love listening to her talk about her projects – her passion for the arts clearly comes across, and these are guaranteed to put a smile on your face! I've posted some previews below, but make sure you head over to our video archive to check them all out.