Posts Tagged 'mumford and sons'
Posted by Sara on January 11, 2019
Our favorite couple was snapped by photographers on their way to lunch in the Soho neighborhood of New York City yesterday, giving us the first candids of Dianna from 2019! She looked as cute as always, sporting a big smile and wearing a red flannel patterned overcoat and a black beanie. You can now find 18 high quality photos of Dianna and Winston from the day over in our photo gallery – thanks to my kind friend Maria for helping me with these!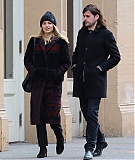 Posted by Sara on December 13, 2018
Hello Dianna fans! On December 11, our favorite couple was photographed out and about in New York City being all smiles. Dianna sported her "Forward Space" beanie, and she looked so cute! I really love this set. 13 high quality photos have been added to our gallery for you! Dianna was back in New York in time to be present at Winston's band Mumford and Sons' sold out show at The Garden later that same evening – if you want to check out some videos and pics from the concert, head over to our friend Dianna Agron Fans on twitter here. Enjoy the new pics!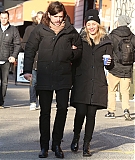 Posted by Sara on November 12, 2018
The photographer Louis Browne has been photographing portraits for Mumford & Sons' new album "Delta", and as the band member Winston Marshall's spouse, Dianna is featured! He just shared a stunning shot from the photoshoot on his instagram, teasing what's definitely going to be a gorgeous portrait of our girl. Big thanks to my friend at @DiannaAgronFans for the heads up! The album will be released on November 16, hopefully we'll have a HQ scan then.
Update: according to Agron Updates, the band has taken portraits of fans, family member and friends over the last couple of months. All the photos will be shown at an exhibition following the release, and some will be featured in the album's booklet. I'll update you once I find out more about it!