Posts Tagged 'events'
Posted by Sara on June 12, 2019
I have continued on from where I left off on Monday, and now updated the 2010 appearances section of our gallery! This was already one of our biggest categories, as Dianna and her Glee co-stars where very busy that year – but I still managed to find over 200 additions we previously didn't have. Many of these are really rare, so even for long time Dianna fans there should be some unseen pretties in there! Definitely make sure to check the Fox Upfront Party additions, as the high quality versions of the Dianna, Lea and Heather pics are a real treat. Enjoy the new photos, and stay tuned for 2011 events up next!
Posted by Sara on June 10, 2019
Over the last months, I have been searching pretty much the entire web for event photos of Dianna, in an attempt to expand our appearances section in the gallery. As a result, I now have more than 1000 new-old pics of our girl, many which are really rare! Since it's taking me a while to sort and add them all, I'll do them in batches by year – first up, 2009! This was a busy year for Dianna, with Glee promotion and signings from the beginning of the year and until the end. Below you can find a full list of the updated albums, but you can also browse the 2009 category by last additions here. Stay tuned for 2010 to 2018!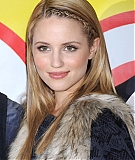 Posted by Sara on October 02, 2018
Hello Dianna fans! Since news are still slow, I've spent some of my free time adding new-old photos to the Gallery. Most of these are additional pics from events Dianna has attended through the years, but there are also some new magazine scans, screen captures and candids. Among all the new photos, the most notably new in there are probably the additions from this year's CFDA Fashion Awards and the extremely stunning new close-ups of Dianna from the Glee Season 2 Party back in 2010! By clicking on any of the thumbnails previewing some of the new pics below, you will be directed to the "Last Uploads" section of our gallery, where you can see all the new additions. You can also navigate yourself to the album(s) you want to check out by using the links.
In addition to these new-old pics, I have also added two brand new albums to our gallery. The first contains 4 cute candids of Dianna out and about in New York City from September 27. A couple of days after these were taken, Dianna and Winston traveled to the Ohana Music Festival (which was held in California this weekend), where Winston closed the festival with his band Mumford & Sons. There Dianna met up with her old Glee Co-Star Kevin McHale on September 30, and the duo posed for a super adorable photo together – and their picture-perfect selfie has been added to the gallery in HQ!