Posts Tagged 'candids'
Posted by Sara on March 03, 2020
I just came across some brand new candids of Dianna, photographed out and about in her infamous pink beanie! I'm not entirely sure where these were taken yet – update: they're from New York!, but they seem to be from this morning (possibly yesterday). Based on her outfit, it's somewhere cold! 9 high quality photos can now be found in our gallery, and I will update our twitter if I come across more later. Enjoy the new pics!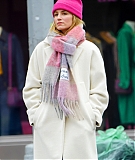 Posted by Sara on January 16, 2019
Like we announced yesterday, Dianna was a guest at BUILD Series NYC's live show to discuss her Café Carlyle return earlier this afternoon! We have been blessed with a big batch of photos already (and I think we can expect even more later on – stay tuned on our twitter account for updates!), both of Dianna arriving at the studio, and of her during the actual show. Her whole interview has also been uploaded to YouTube for those of you who were unable to catch her live – or just want to watch it one more time – and can be viewed in full below. I have also uploaded screencaps for you to our gallery…
Acclaimed actress and singer Dianna Agron returns to Café Carlyle, January 22-February 2. From Marianne Faithfull and Nancy Sinatra to Nico and Peggy Lee, Dianna will be paying tribute to some of finest female-fronted acts of the '60s and '70s. By way of the hit TV show, "Glee," selling more than twelve million albums worldwide and tackling two major tours, she is no stranger to the stage. A resident of New York, she is thrilled to bring her voice back to Café Carlyle, something she feels cements her place in the city.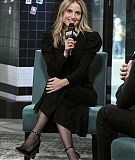 Posted by Sara on January 11, 2019
Our favorite couple was snapped by photographers on their way to lunch in the Soho neighborhood of New York City yesterday, giving us the first candids of Dianna from 2019! She looked as cute as always, sporting a big smile and wearing a red flannel patterned overcoat and a black beanie. You can now find 18 high quality photos of Dianna and Winston from the day over in our photo gallery – thanks to my kind friend Maria for helping me with these!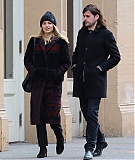 Posted by Sara on December 13, 2018
Hello Dianna fans! On December 11, our favorite couple was photographed out and about in New York City being all smiles. Dianna sported her "Forward Space" beanie, and she looked so cute! I really love this set. 13 high quality photos have been added to our gallery for you! Dianna was back in New York in time to be present at Winston's band Mumford and Sons' sold out show at The Garden later that same evening – if you want to check out some videos and pics from the concert, head over to our friend Dianna Agron Fans on twitter here. Enjoy the new pics!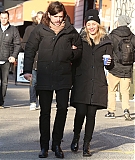 Posted by Sara on October 02, 2018
Hello Dianna fans! Since news are still slow, I've spent some of my free time adding new-old photos to the Gallery. Most of these are additional pics from events Dianna has attended through the years, but there are also some new magazine scans, screen captures and candids. Among all the new photos, the most notably new in there are probably the additions from this year's CFDA Fashion Awards and the extremely stunning new close-ups of Dianna from the Glee Season 2 Party back in 2010! By clicking on any of the thumbnails previewing some of the new pics below, you will be directed to the "Last Uploads" section of our gallery, where you can see all the new additions. You can also navigate yourself to the album(s) you want to check out by using the links.
In addition to these new-old pics, I have also added two brand new albums to our gallery. The first contains 4 cute candids of Dianna out and about in New York City from September 27. A couple of days after these were taken, Dianna and Winston traveled to the Ohana Music Festival (which was held in California this weekend), where Winston closed the festival with his band Mumford & Sons. There Dianna met up with her old Glee Co-Star Kevin McHale on September 30, and the duo posed for a super adorable photo together – and their picture-perfect selfie has been added to the gallery in HQ!
Posted by Sara on September 27, 2018
Dianna and Winston were photographed out and about on a stroll in their neighborhood in New York City again today, before kissing each other good bye and heading to opposite directions! It seems Dianna has been busy doing some supervision upon the venue preparation at the dance studio Forward Space today (make sure to check our previous post for more information), which might have been what she was headed for. Enjoy the adorable new pics, and stay tuned this weekend – hopefully we'll have some new photos of Dianna with the grand opening of the studio!