A group of ambitious misfits try to escape the harsh realities of high school by joining a glee club.
Creators: Ian Brennan, Brad Falchuk, Ryan Murphy
Genre: Musical, Comedy-drama, Romantic comedy, Teen drama
Episode runtime: 40–48 minutes, 56 minutes (Episode 2.18)
First Episode: 1×01: Pilot (May 19, 2009)
Last Episode: 6×13: Drams Come True (March 20, 2015)
Original network: Fox (2009–15)
Distributor: 20th Television
Ending theme: "Time for Some Girl Talk"
Episodes/Seasons: 121 Episodes, 6 Seasons
McKinley High School, in Lima Ohio, is forever changed when Spanish teacher Will Schuester revives the school's show choir. As Will begins to recruit members for his dancing and singing glee club, he realizes that his ragtag group of high school outcasts could become a sensation. The students who take a chance on glee club soon become life-long friends as they battle school humiliation, heartbreak, loneliness, and bullying. When glee club proves to be very good and talented, the school's cheerleading coach (Sue Sylvester) takes it upon herself to destroy the club and everyone involved with it. As glee club is thrown numerous challenges by the high school popular kids, rivalling show choirs, and Sue, Will won't give up on the budding student stars. Will faces phenomenal stress levels as he deals with one of his students (Kurt Hummel) being mercilessly bullied, trying to meet the diva that is Rachel Berry's high demands, mentoring football jock Finn Hudson (who is confused by all the elements of his life), two of his students dealing with teen pregnancy, and desperately trying to fix his toxic marriage. Through all of this drama, glee club must win their competitions if they want to continue existing. The show also focuses on the McKinley alumni after graduation; following Kurt and Rachel navigating the scary streets of New York, the other graduates scrambling to make it big in California, and Will who tries to get a second generation of glee clubbers. Glee explores the ups and downs of high school life and love while emphasizing the importance of equality in schools and the world and also sharing light on the countless problems that face students and school faculty today.
Photos
Television Series > Regular/Recurring Roles > Glee (2009-2015) >
Season 1
Television Series > Regular/Recurring Roles > Glee (2009-2015) >
Season 2
Television Series > Regular/Recurring Roles > Glee (2009-2015) >
Season 3
Television Series > Regular/Recurring Roles > Glee (2009-2015) >
Season 4
Television Series > Regular/Recurring Roles > Glee (2009-2015) >
Season 5
Television Series > Regular/Recurring Roles > Glee (2009-2015) >
Season 6
The Cast
Glee has featured as many as fifteen main roles with star billing, after starting with twelve. Matthew Morrison plays Will Schuester, McKinley High's Spanish teacher, who becomes glee-club director and hopes to restore it to its former glory. Jane Lynch plays Sue Sylvester, head coach of the "Cheerios" cheerleading squad, and the Glee Club's nemesis. Jayma Mays appears as Emma Pillsbury, the school's mysophobic guidance counselor who has feelings for Will, and Jessalyn Gilsig plays Terri Schuester, Will's wife whom he eventually divorces after five years of marriage and the discovery that she has faked being pregnant instead of revealing she had suffered a false pregnancy. Lea Michele plays Rachel Berry, talented star of the glee club who is often bullied by the Cheerios and football players, but grows closer to them as the show progresses. Rachel has an on-and-off relationship with Finn Hudson starting in season one; they become engaged in season three. Cory Monteith played Finn, star quarterback of the school's football team who risks alienation by his friends after joining the glee club. Also in the club are Amber Riley as Mercedes Jones, a fashion-conscious diva who initially resents having to sing back-up; Chris Colfer as Kurt Hummel, a fashionable gay male countertenor; Kevin McHale as Artie Abrams, a guitar player and paraplegic; and Jenna Ushkowitz as Tina Cohen-Chang, an Asian American student with a fake speech impediment. Dianna plays Quinn Fabray, Finn's cheerleader girlfriend, who later joins the glee club to keep an eye on him. Mark Salling plays Noah "Puck" Puckerman, a good friend of Finn's on the football team who at first disapproves of Finn joining the glee club, but later joins it himself. Naya Rivera and Heather Morris, who portray Cheerios and glee club vocalists Santana Lopez and Brittany Pierce respectively, were originally recurring actors, but were promoted to series regulars in the second season.
Mike O'Malley, who plays Kurt's father Burt Hummel, also became a series regular on season two. Gilsig and O'Malley no longer appeared on the list of starring actors at the beginning of the third season, though O'Malley was a recurring guest star in at least six episodes during the season. Two actors were promoted to series regulars as of the third season: Harry Shum Jr. as football player and glee club member Mike Chang and Darren Criss as former Dalton Academy Warbler and new club member Blaine Anderson, both of whom started as recurring actors, Shum in the first season and Criss in the second. For the fourth season, Chord Overstreet, who started as a recurring actor in the second season, playing glee club member Sam Evans, was promoted to the main cast, while Dianna and Jayma Mays were credited as recurring guest stars.
Ratings & Reception
The pilot episode of Glee averaged 9.62 million viewers, and the following eleven episodes attained between 6.10 and 7.65 million. The mid-season finale was watched by 8.13 million viewers, with the show returning in April 2010 to a season high of 13.66 million viewers. The following six episodes attained between 11.49 and 12.98 million viewers, falling to 8.99 million for the penultimate episode "Funk". Viewing figures rose to 11.07 million viewers for the season finale, giving Glee the highest finale rating for a new show in the 2009–10 television season. Only the first twenty episodes of the first season were accounted for when calculating the season average due to the final two episodes airing outside the traditional sweeps period. On February 6, 2011, after the Super Bowl, Glee received its highest ever ratings, with over 26.8 million tuning in to see the special episode, with a peak of 39.5 million.
In 2011, Glee generated $2 million advertising revenue per half-hour. In 2012, the show was the fourth-highest revenue earning show of the year, with US$2.83 million ad revenue per half-hour, behind Two and a Half Men, The X Factor and American Idol.
Glee received a Metacritic score of 78 out of 100 in its first season, based on reviews by eighteen critics, indicating "generally favorable reviews". It was praised by several critics in year-end "best of" reviews in 2009. James Poniewozik of Time ranked it the eighth best television show of the year, commenting: "when Glee works—which is often—it is transcendent, tear-jerking and thrilling like nothing else on TV." Entertainment Weekly's Ken Tucker ranked it ninth, calling it "Hands down the year's most novel show [and] also its least likely success", Lisa Respers France of CNN wrote that while ordinarily Glee's premise would have been "a recipe for disaster", the show has "such quirky charm and bravado that it is impossible not to get swept up". Reviews for subsequent seasons on Metacritic, reflecting their initial episodes, were not quite as good—the second season's score was 76 out of 100 from eleven reviews, and the fourth season received a score of 73 out of 100 from six reviews. Even with these stellar reviews from a multitude of critics, Glee's later seasons lost millions of viewers.
As Glee's initial success pulled in a large audience, John Doyle of The Globe and Mail wrote that the early shows "felt fresh, mainly because the motley crew of kids had a kind of square naïveté." Doyle notes that the early success took Glee away from its original characters and plot, focusing more on celebrity guests. "The gaiety is gone from Glee. You should have set it in its prime, mere months ago". Matthew Gilbert of Boston Globe similarly wrote that "It has become a powerful, promotional machine, long on hype and short on the human feeling–the glee–that once made it so addictive".
Glee has received a number of awards and nominations. In 2009, the series won five Satellite Awards: "Best Musical or Comedy TV Series", "Best Actor" and "Actress in a Musical or Comedy TV Series" for Morrison and Michele, "Best Supporting Actress" for Lynch and "Special Achievement for Outstanding Guest Star" for Kristin Chenoweth. In 2010, the show won a Golden Globe Award for "Best Television Series – Musical or Comedy". Morrison, Michele and Lynch also received acting nominations. The series was nominated for two Writers Guild of America Awards, with screenplays nominated in the "Comedy Series" and "New Series" categories. It also won a Peabody Award in 2009. The Glee cast won the "Outstanding Performance by an Ensemble in a Comedy Series" award at the 16th Screen Actors Guild Awards. Paris Barclay and Ryan Murphy both received nominations for "Outstanding Directing – Comedy Series" at the Directors Guild of America Awards for their work on Glee. In July 2010, Glee received nineteen Emmy Award nominations, including "Outstanding Comedy Series", "Outstanding Lead Actor – Comedy Series" for Morrison and "Outstanding Lead Actress – Comedy Series" for Michele; it won four of these, including "Outstanding Supporting Actress in a Comedy Series" for Lynch and "Outstanding Guest Performance by a Male Actor in a Comedy Series" for Neil Patrick Harris. Paris Barclay was also nominated for a Primetime Emmy for Best Directing in a Comedy Series in 2010 for his episode "Wheels".
On January 16, 2011 the show won a Golden Globe for "Best Television Series – Musical or Comedy" and both Lynch and Colfer won Golden Globes for Best Supporting Actress and Best Supporting Actor in a Television Series, Miniseries, or TV Film. In July 2011, Glee received twelve Emmy nominations and won two: Gwyneth Paltrow was named Outstanding Guest Actress in a Comedy Series for her portrayal of Holly Holliday, and the show won the Outstanding Casting for a Comedy Series category. It received three Emmy nominations in July 2012, and four in July 2013. The whole cast was invited to sing at the White House by Michelle Obama in April 2010 for the annual Easter Egg Roll.
Trivia
» On the day of her audition, Lea Michele was in a car accident right outside of the studio. She came in literally still pulling glass from her hair.
» Seventy songs were used in the first thirteen episodes.
» Darren Criss got the part of Blaine after a nationwide open audition, in which anyone could upload a video onto Glee's Myspace page singing one of two songs they allowed. He originally auditioned for the role of Finn.
» In her audition for the role, Lea Michele sang "On My Own" from Les Miserables. However, the pianist cut the second verse without telling her. She stopped singing and told him "We have to go back and do the verse!" The writers laughed, and later said she definitely had the Rachel role down.
» Cory Monteith didn't sing in his first audition video. He instead produced a beat using makeshift drums. The producers liked his personality and originality so much they called his agent and requested he fly to Los Angeles for a live audition.
» The role of Quinn Fabray was not cast until the night before filming began.
» Matthew Morrison is less than four years older than Cory Monteith, Mark Salling, and Harry Shum, Jr., yet he plays their thirty-something teacher.
» The character of Kurt was written for Chris Colfer after he originally auditioned for the role of Artie. The writers told him that he looked like one of the Von Trapp kids, and Chris told them he actually just starred in The Sound of Music, playing Kurt Von Trapp. This obviously stuck in the writers' mind, as they called his character Kurt Hummel (the surname after the cherubic figurines).
» Heather Morris (who had been a back-up dancer for Beyoncé' tour) was hired to play the character of Brittany after she was first called in by show choreographer Zachary Woodlee to teach the "Single Ladies" dance to the cast.
» Kevin McHale (Artie Abrams) is the only actor to have appeared in every episode that comprised seasons one through four.
» Most of the cast were unknown faces, which is exactly what the producers wanted, and such was the level of spontaneity, auditions were often populated by youths who literally walked in off the street, eager for a crack at stardom.
» The only time Sue calls Emma by her correct name in the first two seasons is the pilot. All other times, she has "mistakenly" called her names like Irma, Alma, Ellen, Arlene, You, or the Redhead. Sue doesn't call her Emma again until the season three opener, "The Purple Piano Project."
» Gwyneth Paltrow was only booked for one episode in season two as Holly Holiday in "The Substitute." However, audiences and critics reacted positively to the character, and the cast and crew loved working with her so much, that she was asked to reprise her role in the season two episodes "Sexy" and "A Night of Neglect," and then back for the season five episodes "100" and "New Directions." She won an Emmy for her work on the show.
» Until season four, each episode number six of every season of the show features a singing mash-up battle.
» Shortly after Cory Monteith died, Ryan Murphy revealed that the writers were forced to changed their original final image for the show, because this was Rachel (as a huge Broadway star) and Finn (as a McKinley professor) reunited after years apart. Rachel mentions this dream to Mr. Schuester.
» In 2010, Ryan Murphy announced that this show would be providing the funding for a job readiness counselor position at New York City's Hetrick-Martin Institute, an agency that provides support services and counseling to LGBTQ youth, and that also runs the Harvey Milk High School, a New York City public school for LGBTQ teens who have been bullied in their previous schools. The job had been eliminated because of budget cuts at the institute. Murphy also announced that the show will provide twenty-five thousand dollars in matching scholarship funds for Harvey Milk High School.
» In season four, Sarah Jessica Parker didn't sign up for a specific number of episodes (like most guest stars do on television shows), but she and Ryan Murphy struck a deal, in which she would be asked if she was available a while before shooting an episode and they would manage dates.
» The script mentions and references famous actors, actresses, and performers, and then later has them guest star playing made-up characters, rather than playing themselves. Examples: Neil Patrick Harris, Gwyneth Paltrow, John Stamos, Sarah Jessica Parker, Kate Hudson , Demi Lovato, Adam Lavigne and Ricky Martin.
» Melissa Benoist and Grant Gustin went on to play two iconic DC superheroes Supergirl (2015) and The Flash (2014).
» Harry Shum, Jr. is nearly a decade older than his character Mike Chang.
» Seasons one and two were written entirely by the three Creators of the show, Ryan Murphy, Brad Falchuk, and Ian Brennan. However, when "American Horror Story" was picked up, with Murphy and Falchuk as its show runners, this show had a writing staff for the remainder of its run.
» Original audition songs: Matthew Morrison sang and played "Somewhere Over the Rainbow" on the ukulele. Lea Michele sang "On My Own" from "Les Miserables". Chris Colfer sang "Mr. Cellophane" from "Chicago". Jenna Ushkowitz sang "Waiting for Life to Begin" from "Once on this Island". Kevin McHale sang The Beatles. Amber Riley originally sang a pop song for her audition, but the producers asked her to sing "And I Am Telling You" from "Dreamgirls". Jayma Mays sang "Touch-a Touch-a Touch Me" from "The Rocky Horror Picture Show". Although many people believe Cory Monteith sang "Can't Fight This Feeling" for his audition, but he really sang "Honesty" by Billy Joel, which he revealed on the Canadian radio show Q. By the end of the first season, Morrison, Michele, Colfer, and Riley had performed their songs on the show. Mays sang hers in the second season.
» Mr. Schue says that he was a freshman when April Rhodes was a senior in high school. In real-life, Kristen Chenoweth is ten years older than Matthew Morrison.
» Brittany was temporarily written out of the show, because Heather Morris was pregnant.
» The Journey song "Don't Stop Believin'" is sung a total of six times throughout the course of the show. The episodes being, "Pilot", "Sectionals", "Journey to Regionals", "Sweet Dreams", "New Directions", and "2009".
» Lord Tubbington's (Brittany's cat's) real name is Eragon. He also lives with another cat named Beezus. Both were featured on My Cat from Hell (2011), a television show for misbehaved cats.
» When "Glee" team – Ryan Murphy, Dianna Agron, Chris Colfer, Neil Patrick Harris, Jane Lynch, Kevin McHale, Lea Michele, Cory Monteith, Heather Morris, Matthew Morrison, Amber Riley, Naya Rivera, Mark Salling, Harry Shum, Jr., Dijon Talton, and Jenna Ushkowitz – all guested on The Oprah Winfrey Show (1986) (April 7, 2010), most claimed to be among the hardest working group of people in the television industry, starting at 6 a.m. and putting in as many as twelve to fourteen hours daily (Monday-Friday), and even rehearsing some weekends.
» Fans of the show refer to themselves as "Gleeks". The show embraced this and season two billboards and bus ads encouraged fans to "Gleek Out".
» The original idea of Glee was inspired by Ian Brennan's own experience as a member of Prospect High School's show choir. It was supposed to be a film, instead of a television series. Brennan wrote the first draft in August 2005, and completed it in the same year. The script, however, did not receive any interest from producers at that time. Michael Novick, a friend of Brennan's and a television producer, later gave Ryan Murphy a copy of Brennan's script, as they are members of the same gym. Murphy himself joined show choir when he was young, and thus related to the script. Murphy and Brad Falchuk suggested that Glee should be produced as a television show. Therefore, the three joined together and re-wrote the script. The re-written script was sent to FOX, and picked up immediately. The three decided to write all of the episodes by themselves. Murphy and Falchuk became Executive Producers and Directors of the show, while Brennan is a co-Executive Producer. Novick also became a Producer of this show.
» Even though she receives principal billing, Dianna was the last person to be cast.
» Much of the main cast of this show, performed for President Barack Obama, his family, and the approximately thirty thousand children and parents in attendance at the 2010 White House Easter Egg Roll on April 5, 2010. Among the songs the Glee group sang were "Don't Stop Believin'", "Over the Rainbow", and "Sweet Caroline", which songwriter Neil Diamond has said was originally written as a tribute to Caroline Kennedy, the daughter of President John F. Kennedy. Malia Obama and Sasha Obama, the daughters of President Obama, were in the front row to hear the concert.
» In early drafts of the pilot script, Quinn's name was "Liz Fabray".
» The high school is named after William McKinley, Jr., who was the twenty-fifth President of the United States (serving between his inauguration on March 4, 1897, and his death by assassination on September 14, 1901. McKinley was one of eight U.S. Presidents to have come from Ohio, the state in which this show is set.
» Seasons two and three contain the most regulars, with fifteen, while the final season contained the lowest regulars, with nine
» Paris Barclay is the only person that directed episodes every season. He was nominated three times for an Emmy for his work on the show.
» Seasons two and three; and five and six, were green-lit together.
» Naya Rivera and Amber Riley both auditioned for American Idol (2002). Adam Lambert and Jessica Sanchez both competed in that show.
» New Directions was originally supposed to win regionals at the end of the first season, as Series Creator Ryan Murphy didn't think the show was going to be picked up for a second season. When he became aware a second season was going to be made, he changed the outcome of the season one finale, to make their drive to win in the second season more passionate.
Promotion
On May 11, 2009, the cast of the show attended the Glee premiere in Los Angeles at the Santa Monica High School. A week later, on May 18, the cast once again stepped out – this time for the 2009 FOX UpFronts, where Glee was highly promoted and praised by a big group of fans who showed up to meet the stars. The UpFronts Party was held at the Wollman Rink in Central Park.
On August 6, 2009, Dianna, Mark Salling, Jane Lynch, Lea Michele, Jayma Mays, Cory Monteith, Jessalyn Gilsig, Matthew Morrison, Jenna Ushkowitz, co-creator/co-executive producer Ian Brennan, Amber Riley, co-creator/executive producer Brad Falchuk, Chris Colfer, executive producer Dante Di Loreto and Kevin McHale attended the Fox Network portion of the 2009 Summer Television Critics Association Press Tour at The Langham Huntington Hotel & Spa in Pasadena, California, to promote the show. The held a panel where they discussed the show, before the cast headed to the FOX After-Party.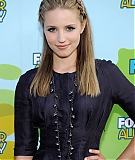 Following the TCA event, the cast went on a long Glee Mall tour, where they visited several shopping malls across the country to meet up with fans. The tour was a mix of a fan signing and a meet and greet, and they visited malls in New Jersey, Minnesota, Chicago, Philadelphia, Houston and more.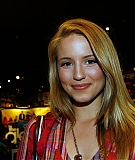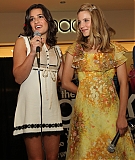 2009 kept being a busy year for the Glee cast. On October 31, they sang The National Anthem at The Wold Series Game, before attending 'Love, Loss And What I Wore' On Brodway the following day (November 1).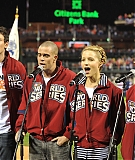 Towards the end of the year, the cast went on a small tour to sign the "Glee – The Music Volume 1" album which was released on November 2nd, 2009. They started on Long Island the day of the release, before heading to Manhattan on November 3, and New Jersey on November 4.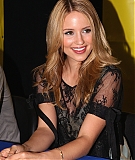 Quotes on the show
– Dianna Agron (on her audition): "I was so nervous. They told me to come back with straight hair and to dress sexier. Later that week, I started work."
– Dianna Agron: "I remember Ryan saying, 'You're about to get pregnant,' And I thought, 'Bring it on.' When they put the pregnancy pad under my cheerleading outt, I was walking around the set, and people were like, 'Only on Glee!' "
– Dianna Agron: People connect with the show because everyone has awkward or uncomfortable moments. There's beauty in that. Life isn't perfect."
– Dianna Agron (on her favorite number): "'Time Warp' from 'The Rocky Horror Glee Show' was a dream come true for me."
Videos